Scythe.hyhy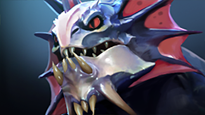 Slardar
Str

21 + 2.80

17 + 2.40

15 + 1.50

Hero description
Slardar is a powerful close-range stunner who depends on physical damage. He excels at chasing down fragile heroes and Bashing them into the dirt. Slithereen Crush and Bash allow him to stun and damage a target, then follow up with additional bashes to keep them stunned while he finishes them off. In order to get into close enough to use his stun skills, Slardar relies on Sprint. Sprint gives him a massive movement-speed bonus for a relatively long duration, but comes with the negative side effect of making him take extra damage from enemy attacks and spells. Slardar may find himself Sprinting right into a trap, with his increased vulnerability putting a sudden end to his pursuit. Amplify Damage allows Slardar to keep an eye on his target, while drastically reducing their armor, making them easy prey for his powerful attacks once he has chased them down. When faced with this dangerous hero, it's best to keep as far away as possible.


Hide description
Scythe.lovequinny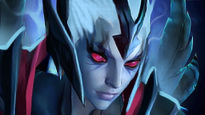 Vengeful Spirit
Agi

16 + 2.30

27 + 2.35

15 + 1.75

Hero description
Vengeful Spirit is so driven to seek revenge against her foes that she will sacrifice herself if it gives an advantage to her team. Her Magic Missiles stun and damage targets. Releasing Wave of Terror, she exposes an oncoming enemy while shredding its armor and dulling its ability to damage. Her lust for vengeance is contagious: nearby allies feel compelled to deal more damage. Even though she is not a particularly tough or agile hero, she will Swap her position with a key enemy or allied hero in an instant, disregarding her own safety for a promise of sweet revenge.


Hide description
Scythe.Chawy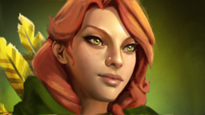 Windrunner
Int

15 + 2.50

17 + 1.40

22 + 2.60

Hero description
Although she is an intelligence hero, Windrunner's gameplay style resembles that of an agility hero in many ways. Most of the time she relies on her physical attack. Her archery skills are powerful to start with but also enjoys a steadily increasing rate of fire. Deadly Power Shots not only pierce the nearest target with massive damage, but continue on to damage any units in the line of fire. Due to its exceedingly long range, Power Shot is also excellent for picking off injured heroes as they flee. To stop enemies from fleeing in the first place, Windrunner has Shackleshot--one of the best single-target stuns in the game. Shackleshot allows Windrunner to shackle a target either to a tree or to another enemy unit, potentially stunning two heroes. Her third skill, Windrun, allows her to escape dangerous situations, position herself for good Shackleshots, and catch up to fleeing enemies. If Powershot isn't enough to take down a target, she can use Focus Fire. This powerful ability makes her attack a single enemy at the fastest possible rate; while it reduces her total damage, it has a long duration. Focus Fire is also highly effective against buildings and other stationary targets--and woe to the enemy hero who is first hit by Shackleshot, since they are now essentially a stationary target themselves.


Hide description
Scythe.iceiceice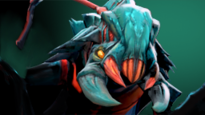 Weaver
Agi

15 + 1.50

14 + 2.50

15 + 1.80

Hero description
Although Weaver may be fragile, he more than counters this weakness with constant bursts of speed and invisibility, along with the ability to periodically deal double damage on attack. He is the master of in, out, and back in. He sends out swarms of beetles which latch onto foes to damage and create chaos. The beetles also reduce his prey's armor, making them vulnerable to team attacks. Finally, Weaver can Time Lapse into the recent past, returning him to the location, as well as to levels of health and mana, that he'd been at 5 seconds prior. Weaver is a paradox--quick and agile, extremely hard to kill due to Time Lapse, but also fragile if caught off guard.


Hide description
Scythe.xy-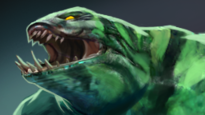 Tidehunter
Str

22 + 3.00

15 + 1.50

16 + 1.70

Hero description
A massive leviathan of incredible strength and toughness, Tidehunter is a real tank. Using his Gush skill, he can slow and damage a single target while reducing their armor, allowing him and his allies to pummel the target to a pulp. To aid his close combat skills, Tidehunter has a powerful Anchor Smash spell, which he can use to unleash a devastating area of effect spin attack. A target of Gush who is hit by an Anchor Smash or two is in deep trouble. To protect himself while chasing down and smashing enemies, Tidehunter has a passive: Kraken Shell. This ability reduces all damage from physical attacks by a set number, allowing the Leviathan to wade into combat without fear, ignoring the blows of lesser foes. Kraken Shell also occasionally dispels negative spell effects, making him even more difficult to stop. By far the most feared ability of the Tidehunter is Ravage. This mighty ability allows the Tidehunter to cause immense damage and stun all enemies in a large area around him. This ability is most effective in large team battles, where it is a simple matter to hit the entire enemy team at once with its writhing tentacles, setting up the Tidehunter and his allies for an easy victory.


Hide description
Na`Vi.Artstyle.Darer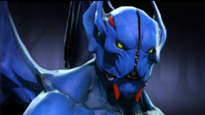 Night Stalker
Str

23 + 2.80

18 + 2.25

16 + 1.60

Hero description
You had better take advantage of the daylight while you can, since come nightfall you will be up against a powerful and adept hunter. Night Stalker's passive Hunter in the Night increases his movement and attack speed at night, making him a feared ganker and chaser whenever the sun is down. His Void spell damages a target and slows them to a crawl, allowing Night Stalker and his allies to deal great amounts of damage. Crippling Fear is a powerful weapon against spellcasters and fighters alike, as it both silences enemies and increases the chance that their physical attacks will miss the target. It is said that you have little to fear from Night Stalker when the sun is high--however, his ultimate ability, Darkness, allows him to instantly turn day into night (or prolong the night that has already fallen), giving his other spells their fullest effect.


Hide description
Na`Vi.XBOCT
Mirana
Agi

17 + 1.85

20 + 2.75

17 + 1.65

Hero description
Mirana is known for her deadly Arrow, whose stunning impact is greater the farther it has flown. With Starstorm, she can call a deadly rain of stars upon enemies. Her agile mount's Leap carries her swiftly out of ambushes, or lets her swiftly close the distance to a fleeing prey, while gracing her allies with the shared gift of speed. Her ultimate, Moonlight Shadow, enables her to briefly render her entire team invisible, useful for surprise attacks as well as for retreat. Always hard to trap, Mirana is most feared when she is the one doing the hunting.


Hide description
Na`Vi.Puppeh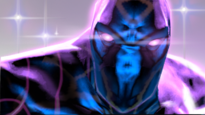 Enigma
Int

17 + 2.10

14 + 1.00

20 + 3.40

Hero description
Enigma change the course of a game with the cast of a single spell, but he is also an excellent support hero. Malefice is a unique stun, hitting a target swiftly several times instead of all at once. Ideal for running down enemy heroes, it also interrupts channeling for those spellcasters who rely on it. For sheer damage, Enigma relies on Conversion, which transforms a target creep into three Eidolons which multiply as they attack. Conversion can also be cast on neutral creeps--perfect for ambushes. Enigma's ultimate power, Black Hole, is a powerful channeling spell. Enemies caught in its horizon are disabled and dragged inevitably toward its deadly center, where Enigma's allies can concentrate their attacks. Enigma can add to the pain with Midnight Pulse, an Area of Effect spell that causes repeated damage based on the target's maximum life. Powerful alone, Enigma is strongest when supported by allies with strong Area of Effect spells, since they can take the greatest advantage of Black Hole.


Hide description
Na`Vi.LighTofHeaveN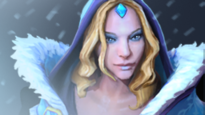 Crystal Maiden
Int

16 + 1.70

16 + 1.60

21 + 2.90

Hero description
The Crystal Maiden is a powerful disabler and support spellcaster. Each of her offensive spells impairs the enemy in some way, making her a valuable addition to any lineup. Crystal Nova blasts multiple enemies with chilling damage, while Frostbite completely paralyzes a single foe. Freezing Field causes immense damage and slows everything in a large area around her, but her natural fragility makes it a difficult spell to use to full effect. Her greatest asset to her team is Arcane Aura, which gives all her allies a significant boost to their mana regeneration, no matter where on the map they might be. Although she tends to take on a supportive role, the Crystal Maiden is still one of the most valuable heroes for any team.


Hide description
Na`Vi.Dendi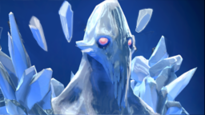 Ancient Apparition
Int

18 + 1.40

20 + 2.20

25 + 2.60

Hero description
Ancient Apparition is a versatile spellcaster with the unusual ability to strike enemies at long distances. With practice, his Ice Blast can strike any point on the battlefield, and deals damage in a wide diameter. It's perfect for laying waste to enemies clumped together in a fight and allows Ancient Apparition to be an integral part of team fights even when he's on the other side of the map. Cold Feet is useful to slow the movement speed of targets, and if afflicted enemies can't get safely out of range within four seconds, they'll be frozen in their tracks. This is particularly beneficial in team fights because an enemy that is frozen is an enemy that can't fight back. Ice Vortex is another of Ancient Apparition's abilities that focuses on immobilizing his enemies. Ice Vortex condenses Ancient Apparition's frost power into a single spinning vortex of ice that slows enemies while they are standing inside it and increases all magic damage taken. But Ancient Apparition's spells aren't limited just to increasing his own effectiveness in battle. Chilling Touch enchants allied heroes and gives bonus magical attack damage to your teammates.


Hide description