Na`Vi.Artstyle.Darer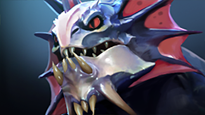 Slardar
Str

21 + 2.80

17 + 2.40

15 + 1.50

Hero description
Slardar is a powerful close-range stunner who depends on physical damage. He excels at chasing down fragile heroes and Bashing them into the dirt. Slithereen Crush and Bash allow him to stun and damage a target, then follow up with additional bashes to keep them stunned while he finishes them off. In order to get into close enough to use his stun skills, Slardar relies on Sprint. Sprint gives him a massive movement-speed bonus for a relatively long duration, but comes with the negative side effect of making him take extra damage from enemy attacks and spells. Slardar may find himself Sprinting right into a trap, with his increased vulnerability putting a sudden end to his pursuit. Amplify Damage allows Slardar to keep an eye on his target, while drastically reducing their armor, making them easy prey for his powerful attacks once he has chased them down. When faced with this dangerous hero, it's best to keep as far away as possible.


Hide description
Na`Vi.XBOCT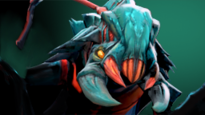 Weaver
Agi

15 + 1.50

14 + 2.50

15 + 1.80

Hero description
Although Weaver may be fragile, he more than counters this weakness with constant bursts of speed and invisibility, along with the ability to periodically deal double damage on attack. He is the master of in, out, and back in. He sends out swarms of beetles which latch onto foes to damage and create chaos. The beetles also reduce his prey's armor, making them vulnerable to team attacks. Finally, Weaver can Time Lapse into the recent past, returning him to the location, as well as to levels of health and mana, that he'd been at 5 seconds prior. Weaver is a paradox--quick and agile, extremely hard to kill due to Time Lapse, but also fragile if caught off guard.


Hide description
Na`Vi.LighTofHeaveN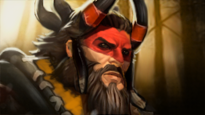 Beastmaster
Str

23 + 2.20

18 + 1.60

16 + 1.90

Hero description
Beastmaster is a well-rounded fighter, with many tactical options available for all types of combat. Although his physical attacks are melee, he can throw his axes at long range to slice through enemies, dealing lethal damage. His Primal Roar can turn the most organized defense into chaos, allowing Beastmaster and his allies to move in for the kill. His summoning skills serve as effective support for his blitz-style combat. Beastmaster's agile Hawk flies above the battlefield scouting for enemies, and the powerful slowing abilities of his Boar's spines give him time to finish off fleeing foes. A skilled Beastmaster is a deadly foe, capable of fighting any enemy on any terms and crushing them to a pulp.


Hide description
Na`Vi.Dendi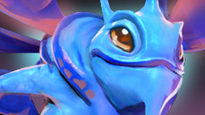 Puck
Int

15 + 1.70

22 + 1.70

25 + 2.40

Hero description
Loved by aggressive players everywhere, Puck is one of the best heroes for starting fights. Puck's highly flexible skill set is useful in any situation, making Puck a great hero in both support and offensive roles. Illusory Orb functions like a regular line damage spell--yet at any point along its course, Puck can use Ethereal Jaunt to instantly teleport to Illusory Orb's position. This makes the spell useful for both attacking and escaping. It also meshes perfectly with Puck's offensive spell, Waning Rift. Waning Rift deals damage and silence in an area around Puck, making it the natural choice for use after an Illusory Orb and Ethereal Jaunt. Puck's final offensive spell, Dream Coil, can be used either before or after this combo with great effect. Trapping enemies in a small area, Dream Coil forces them to remain near the target point or take damage and get stunned. Phase Shift, meanwhile, renders Puck invulnerable for several seconds--a highly useful skill on the frequent occasions when Puck ends up right in the middle of the fray. Puck is a relatively easy hero to pick up, and a highly rewarding one to master.


Hide description
Na`Vi.Puppeh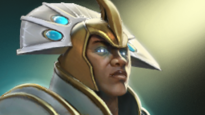 Chen
Int

20 + 1.50

15 + 2.10

21 + 2.80

Hero description
Chen's standard gameplay is different than most other heroes. Holy Persuasion allows him to convert creeps to his side, including powerful neutral creeps. As a result, Chen is usually found in the forest searching for creeps to convert. When he finds a strong creep or two, he descends on his unwary enemies, using both his own spells and the abilities of his persuaded creeps to take them out. Due to the difficulty of effectively controlling multiple units and abilities, Chen can be a tricky hero to play to his full potential. When ambushing enemies, Chen generally uses his Penitence ability, which slows the target and causes them to take extra damage from Chen's flock. Test of Faith can both finish off enemies, and also double as a way to save threatened allies by teleporting them to safety. Chen's support skills are rounded out by Hand of God, a healing spell which instantly restores a set amount of life to all allied heroes across the battlefield. Although Chen can be difficult for newer players, those who are skilled at controlling multiple units will find him very powerful.


Hide description
EH.GIGABYTE.820.CN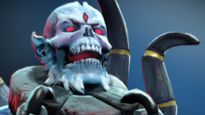 Lich
Int

18 + 1.55

15 + 2.00

18 + 3.25

Hero description
Mighty Lich is one of the best heroes at controlling a lane, thanks to his Frost Nova and Sacrifice spells. Frost Blast is a strong nuke that slows its target, giving Lich a good harassment tool. Repeatedly casting Frost Blast and harassing with physical attacks is a surefire way to quickly bring an enemy hero to his knees. However, Frost Blast becomes even more dangerous when coupled with Sacrifice. This spell allows Lich to destroy an allied creep and gain mana based on its life. Using this spell helps Lich by giving him limitless mana for Frost Blast, and hinders his enemies by denying them the experience or gold they would have gained from the destroyed creep. By using Frost Blast and Sacrifice liberally, the Lich can quickly force any opponent to retreat from his lane. Later in the game Lich tends to slide into a support role, using his Ice Armor spell to buff the survivability of his allies, and deploying his devastating Chain Frost to damage his foes in team battles.


Hide description
EH.GIGABYTE.357.CN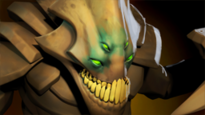 Sand King
Str

18 + 2.60

19 + 2.10

16 + 1.80

Hero description
The Sand King emphasizes area of effect damage more than most. All four of his abilities can damage multiple foes at once. Burrowstrike, his mainstay, damages and stuns targets in a line. In addition, when using this ability, the Sand King burrows to the target location which sets him up for additional attacks or spells. This can get him into trouble though, and to help evade counter attacks he uses Sand Storm. While active, this ability makes the Sand King invisible in the middle of a swirling storm of dust. Although he is unable to move while remaining invisible, nearby enemies will take damage as long as they remain in the storm. The Sand King can finish off groups off units with his Caustic Finale passive skill, which causes a deadly explosion every time he kills a unit with his physical attack. Epicenter, arguably Sand King's most deadly ability, creates a pulsing earthquake centered on his location. When combined with Burrowstrike, this ability is often fatal to fragile heroes, and leaves tougher enemies wounded and limping for safety.


Hide description
EH.GIGABYTE.PLT.CN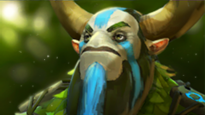 Nature's Prophet
Int

19 + 1.80

18 + 1.90

21 + 2.90

Hero description
Nature's Prophet is an unusual intelligence hero. His only damaging spell is his ultimate, Wrath of Nature, which is most effective when cast as far as possible from its intended victims. Instead of offensive spells, he relies on his physical attack and his allies to take down enemies. With his summoned army of Treants, he is a great lane pusher. His main advantage is his amazing mobility. Using Teleportation, he can jaunt anywhere on the battlefield at will. A player with good map awareness is invaluable help to his allies, since he can potentially join any battle, anywhere on the map. With Sprout, he can trap enemy heroes and then finish them off with his strong physical attack and allied help. He can summon an army of Treants with Nature's Call and quickly destroy enemy towers and structures before the enemy can regroup to retaliate. His final spell, Wrath of Nature, can be used to soften up targets across the map while drawing large amounts of gold from enemy creeps. Whether you wish to play Nature's Prophet, or effectively oppose him, map awareness is key.


Hide description
EH.GIGABYTE.FCB.CN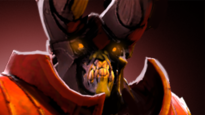 Doom Bringer
Str

26 + 3.20

11 + 0.90

13 + 2.10

Hero description
The mighty Doom Bringer is a versatile and dangerous foe. His offensive spells are very damaging. LVL? Death allows him to pick off heroes at range, dealing extra damage against heroes of certain levels. The dreaded Doom is one of the most feared spells in the game, and with good reason. Not only does it deal massive Damage Over Time to its target, it also silences them completely for the duration. Although Doom Bringer is no pushover in physical combat, he lacks any dedicated fighting abilities. Instead, he uses Devour to take on the abilities of the creeps he ingests, and buffs his movement and attack speed with Scorched Earth. With his good income, strong damage spells, and the ability to effectively knock a single enemy hero out of a fight, Doom Bringer is a formidable opponent in any matchup.


Hide description
EH.GIGABYTE.X!!.CN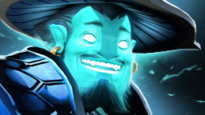 Storm Spirit
Int

19 + 1.50

22 + 1.80

23 + 2.60

Hero description
A hero for adrenaline junkies, Storm Spirit provides arguably the best nonstop movement of any hero, and is commonly seen bouncing around the battlefield, zapping his foes and zippingaway. Storm Spirit mixes up physical attacks spell damage. Static Remnant lays down a flickering electrical clone, which on contact will explode, delivering shocks to all foes in the vicinity. Electric Vortex is a powerful disabling spell, which Storm Spirit uses to reel in enemies; he especially likes to reel them into a Static Remnant. Completing this combo, Overload adds a blast of electricity to every spell he casts. Storm Spirit's ultimate ability is Ball Lightning, a teleportation spell with no cooldown and no maximum range, which gives Storm Spirit the ability to zap around the map as long as his mana and regeneration don't give out. Like a storm, this hero gathers strength slowly, but once at full power, he is an unstoppable force of nature.


Hide description