EH.GIGABYTE.820.CN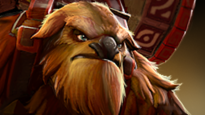 Earthshaker
Str

22 + 2.50

12 + 1.40

16 + 1.80

Hero description
Although the Earthshaker is a strength hero, his real power lies in his spells. With a well-placed Echo Slam, he can single-handedly level an entire team if his enemies are foolish enough to bunch together. His Fissure spell is very versatile. While it stuns and causes damage, it also creates an impassible wall of stone, trapping hapless foes between a rock and a hard place. Enchant Totem gives Earthshaker a significant damage boost for one attack, while his passive Aftershock ability causes a minor stun and damage effect every time he casts one of his spells. Although he is one of the more difficult heroes to use to his full capacity, he can be one of the most deadly in skilled hands.


Hide description
EH.GIGABYTE.357.CN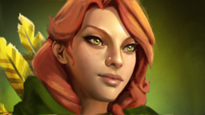 Windrunner
Int

15 + 2.50

17 + 1.40

22 + 2.60

Hero description
Although she is an intelligence hero, Windrunner's gameplay style resembles that of an agility hero in many ways. Most of the time she relies on her physical attack. Her archery skills are powerful to start with but also enjoys a steadily increasing rate of fire. Deadly Power Shots not only pierce the nearest target with massive damage, but continue on to damage any units in the line of fire. Due to its exceedingly long range, Power Shot is also excellent for picking off injured heroes as they flee. To stop enemies from fleeing in the first place, Windrunner has Shackleshot--one of the best single-target stuns in the game. Shackleshot allows Windrunner to shackle a target either to a tree or to another enemy unit, potentially stunning two heroes. Her third skill, Windrun, allows her to escape dangerous situations, position herself for good Shackleshots, and catch up to fleeing enemies. If Powershot isn't enough to take down a target, she can use Focus Fire. This powerful ability makes her attack a single enemy at the fastest possible rate; while it reduces her total damage, it has a long duration. Focus Fire is also highly effective against buildings and other stationary targets--and woe to the enemy hero who is first hit by Shackleshot, since they are now essentially a stationary target themselves.


Hide description
EH.GIGABYTE.FCB.CN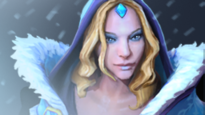 Crystal Maiden
Int

16 + 1.70

16 + 1.60

21 + 2.90

Hero description
The Crystal Maiden is a powerful disabler and support spellcaster. Each of her offensive spells impairs the enemy in some way, making her a valuable addition to any lineup. Crystal Nova blasts multiple enemies with chilling damage, while Frostbite completely paralyzes a single foe. Freezing Field causes immense damage and slows everything in a large area around her, but her natural fragility makes it a difficult spell to use to full effect. Her greatest asset to her team is Arcane Aura, which gives all her allies a significant boost to their mana regeneration, no matter where on the map they might be. Although she tends to take on a supportive role, the Crystal Maiden is still one of the most valuable heroes for any team.


Hide description
EH.GIGABYTE.PLT.CN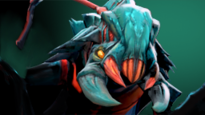 Weaver
Agi

15 + 1.50

14 + 2.50

15 + 1.80

Hero description
Although Weaver may be fragile, he more than counters this weakness with constant bursts of speed and invisibility, along with the ability to periodically deal double damage on attack. He is the master of in, out, and back in. He sends out swarms of beetles which latch onto foes to damage and create chaos. The beetles also reduce his prey's armor, making them vulnerable to team attacks. Finally, Weaver can Time Lapse into the recent past, returning him to the location, as well as to levels of health and mana, that he'd been at 5 seconds prior. Weaver is a paradox--quick and agile, extremely hard to kill due to Time Lapse, but also fragile if caught off guard.


Hide description
EH.GIGABYTE.X!!.CN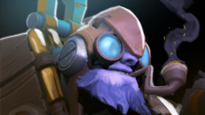 Tinker
Int

17 + 2.00

13 + 1.20

27 + 2.20

Hero description
In the early stages of a game, Tinker appears to be a straightforward offensive spellcasting hero, with two exceptionally dangerous single target abilities and a large Area of Effect ability. Laser deals extremely high damage to one enemy and temporarily blinds them, making it very deadly against fragile spellcasters and agility heroes who rely on their physical attacks. Heat Seeking Missile also does a lot of damage; it not only has a very long range, but will track a single enemy across the map, making it especially good for finishing off injured heroes. March of the Machines can be difficult to master, but it will cause a lot of pain if placed correctly--not to mention the amount of gold it can harvest from plentiful creep kills. However, Tinker's true power lies in Rearm. With enough mana, Tinker can launch a constant barrage of spells on his enemies. Rearm also refreshes the cooldown of most inventory items, making high-priced equipment with active abilities far more effective for Tinker than other heroes.


Hide description
Na`Vi.Artstyle.Darer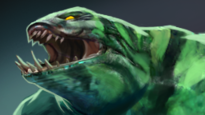 Tidehunter
Str

22 + 3.00

15 + 1.50

16 + 1.70

Hero description
A massive leviathan of incredible strength and toughness, Tidehunter is a real tank. Using his Gush skill, he can slow and damage a single target while reducing their armor, allowing him and his allies to pummel the target to a pulp. To aid his close combat skills, Tidehunter has a powerful Anchor Smash spell, which he can use to unleash a devastating area of effect spin attack. A target of Gush who is hit by an Anchor Smash or two is in deep trouble. To protect himself while chasing down and smashing enemies, Tidehunter has a passive: Kraken Shell. This ability reduces all damage from physical attacks by a set number, allowing the Leviathan to wade into combat without fear, ignoring the blows of lesser foes. Kraken Shell also occasionally dispels negative spell effects, making him even more difficult to stop. By far the most feared ability of the Tidehunter is Ravage. This mighty ability allows the Tidehunter to cause immense damage and stun all enemies in a large area around him. This ability is most effective in large team battles, where it is a simple matter to hit the entire enemy team at once with its writhing tentacles, setting up the Tidehunter and his allies for an easy victory.


Hide description
Na`Vi.Puppeh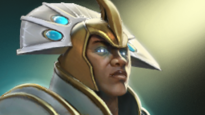 Chen
Int

20 + 1.50

15 + 2.10

21 + 2.80

Hero description
Chen's standard gameplay is different than most other heroes. Holy Persuasion allows him to convert creeps to his side, including powerful neutral creeps. As a result, Chen is usually found in the forest searching for creeps to convert. When he finds a strong creep or two, he descends on his unwary enemies, using both his own spells and the abilities of his persuaded creeps to take them out. Due to the difficulty of effectively controlling multiple units and abilities, Chen can be a tricky hero to play to his full potential. When ambushing enemies, Chen generally uses his Penitence ability, which slows the target and causes them to take extra damage from Chen's flock. Test of Faith can both finish off enemies, and also double as a way to save threatened allies by teleporting them to safety. Chen's support skills are rounded out by Hand of God, a healing spell which instantly restores a set amount of life to all allied heroes across the battlefield. Although Chen can be difficult for newer players, those who are skilled at controlling multiple units will find him very powerful.


Hide description
Na`Vi.Dendi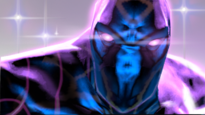 Enigma
Int

17 + 2.10

14 + 1.00

20 + 3.40

Hero description
Enigma change the course of a game with the cast of a single spell, but he is also an excellent support hero. Malefice is a unique stun, hitting a target swiftly several times instead of all at once. Ideal for running down enemy heroes, it also interrupts channeling for those spellcasters who rely on it. For sheer damage, Enigma relies on Conversion, which transforms a target creep into three Eidolons which multiply as they attack. Conversion can also be cast on neutral creeps--perfect for ambushes. Enigma's ultimate power, Black Hole, is a powerful channeling spell. Enemies caught in its horizon are disabled and dragged inevitably toward its deadly center, where Enigma's allies can concentrate their attacks. Enigma can add to the pain with Midnight Pulse, an Area of Effect spell that causes repeated damage based on the target's maximum life. Powerful alone, Enigma is strongest when supported by allies with strong Area of Effect spells, since they can take the greatest advantage of Black Hole.


Hide description
Na`Vi.LighTofHeaveN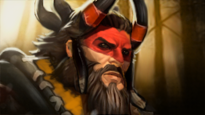 Beastmaster
Str

23 + 2.20

18 + 1.60

16 + 1.90

Hero description
Beastmaster is a well-rounded fighter, with many tactical options available for all types of combat. Although his physical attacks are melee, he can throw his axes at long range to slice through enemies, dealing lethal damage. His Primal Roar can turn the most organized defense into chaos, allowing Beastmaster and his allies to move in for the kill. His summoning skills serve as effective support for his blitz-style combat. Beastmaster's agile Hawk flies above the battlefield scouting for enemies, and the powerful slowing abilities of his Boar's spines give him time to finish off fleeing foes. A skilled Beastmaster is a deadly foe, capable of fighting any enemy on any terms and crushing them to a pulp.


Hide description
Na`Vi.XBOCT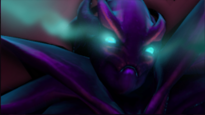 Spectre
Agi

19 + 2.00

23 + 2.20

16 + 1.90

Hero description
Spectre is complex melee fighter with a unique series of special attack skills. She's able to Desolate opponents for pure damage if she catches them alone. She can also Disperse incoming damage, deflecting it into the area around her. She can hurl a Spectral Dagger at opponents, slowing and damaging enemies while at the same time allowing her to pass through material objects and travel across any terrain. Her ultimate weapon though, and the thing that sets her apart from all others, is her Haunt ability. She should be feared as a constant presence, being able to Haunt all enemy heroes on the battlefield at once, appearing out of nowhere to harass and confuse an entire enemy force, no matter where they are on the map. Haunt is a great strategy tool, as she can then take over one of her phantom images to physically enter a fight at the location that give her best advantage.


Hide description