M5.NSLoveOlga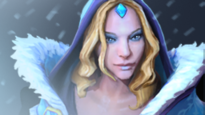 Crystal Maiden
Int

16 + 1.70

16 + 1.60

21 + 2.90

Hero description
The Crystal Maiden is a powerful disabler and support spellcaster. Each of her offensive spells impairs the enemy in some way, making her a valuable addition to any lineup. Crystal Nova blasts multiple enemies with chilling damage, while Frostbite completely paralyzes a single foe. Freezing Field causes immense damage and slows everything in a large area around her, but her natural fragility makes it a difficult spell to use to full effect. Her greatest asset to her team is Arcane Aura, which gives all her allies a significant boost to their mana regeneration, no matter where on the map they might be. Although she tends to take on a supportive role, the Crystal Maiden is still one of the most valuable heroes for any team.


Hide description
M5.Dread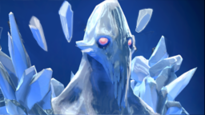 Ancient Apparition
Int

18 + 1.40

20 + 2.20

25 + 2.60

Hero description
Ancient Apparition is a versatile spellcaster with the unusual ability to strike enemies at long distances. With practice, his Ice Blast can strike any point on the battlefield, and deals damage in a wide diameter. It's perfect for laying waste to enemies clumped together in a fight and allows Ancient Apparition to be an integral part of team fights even when he's on the other side of the map. Cold Feet is useful to slow the movement speed of targets, and if afflicted enemies can't get safely out of range within four seconds, they'll be frozen in their tracks. This is particularly beneficial in team fights because an enemy that is frozen is an enemy that can't fight back. Ice Vortex is another of Ancient Apparition's abilities that focuses on immobilizing his enemies. Ice Vortex condenses Ancient Apparition's frost power into a single spinning vortex of ice that slows enemies while they are standing inside it and increases all magic damage taken. But Ancient Apparition's spells aren't limited just to increasing his own effectiveness in battle. Chilling Touch enchants allied heroes and gives bonus magical attack damage to your teammates.


Hide description
M5.G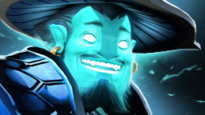 Storm Spirit
Int

19 + 1.50

22 + 1.80

23 + 2.60

Hero description
A hero for adrenaline junkies, Storm Spirit provides arguably the best nonstop movement of any hero, and is commonly seen bouncing around the battlefield, zapping his foes and zippingaway. Storm Spirit mixes up physical attacks spell damage. Static Remnant lays down a flickering electrical clone, which on contact will explode, delivering shocks to all foes in the vicinity. Electric Vortex is a powerful disabling spell, which Storm Spirit uses to reel in enemies; he especially likes to reel them into a Static Remnant. Completing this combo, Overload adds a blast of electricity to every spell he casts. Storm Spirit's ultimate ability is Ball Lightning, a teleportation spell with no cooldown and no maximum range, which gives Storm Spirit the ability to zap around the map as long as his mana and regeneration don't give out. Like a storm, this hero gathers strength slowly, but once at full power, he is an unstoppable force of nature.


Hide description
M5.Santa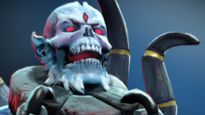 Lich
Int

18 + 1.55

15 + 2.00

18 + 3.25

Hero description
Mighty Lich is one of the best heroes at controlling a lane, thanks to his Frost Nova and Sacrifice spells. Frost Blast is a strong nuke that slows its target, giving Lich a good harassment tool. Repeatedly casting Frost Blast and harassing with physical attacks is a surefire way to quickly bring an enemy hero to his knees. However, Frost Blast becomes even more dangerous when coupled with Sacrifice. This spell allows Lich to destroy an allied creep and gain mana based on its life. Using this spell helps Lich by giving him limitless mana for Frost Blast, and hinders his enemies by denying them the experience or gold they would have gained from the destroyed creep. By using Frost Blast and Sacrifice liberally, the Lich can quickly force any opponent to retreat from his lane. Later in the game Lich tends to slide into a support role, using his Ice Armor spell to buff the survivability of his allies, and deploying his devastating Chain Frost to damage his foes in team battles.


Hide description
M5.AA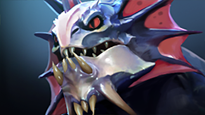 Slardar
Str

21 + 2.80

17 + 2.40

15 + 1.50

Hero description
Slardar is a powerful close-range stunner who depends on physical damage. He excels at chasing down fragile heroes and Bashing them into the dirt. Slithereen Crush and Bash allow him to stun and damage a target, then follow up with additional bashes to keep them stunned while he finishes them off. In order to get into close enough to use his stun skills, Slardar relies on Sprint. Sprint gives him a massive movement-speed bonus for a relatively long duration, but comes with the negative side effect of making him take extra damage from enemy attacks and spells. Slardar may find himself Sprinting right into a trap, with his increased vulnerability putting a sudden end to his pursuit. Amplify Damage allows Slardar to keep an eye on his target, while drastically reducing their armor, making them easy prey for his powerful attacks once he has chased them down. When faced with this dangerous hero, it's best to keep as far away as possible.


Hide description
EH.GIGABYTE.820.CN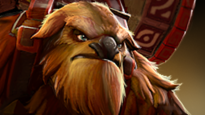 Earthshaker
Str

22 + 2.50

12 + 1.40

16 + 1.80

Hero description
Although the Earthshaker is a strength hero, his real power lies in his spells. With a well-placed Echo Slam, he can single-handedly level an entire team if his enemies are foolish enough to bunch together. His Fissure spell is very versatile. While it stuns and causes damage, it also creates an impassible wall of stone, trapping hapless foes between a rock and a hard place. Enchant Totem gives Earthshaker a significant damage boost for one attack, while his passive Aftershock ability causes a minor stun and damage effect every time he casts one of his spells. Although he is one of the more difficult heroes to use to his full capacity, he can be one of the most deadly in skilled hands.


Hide description
EH.GIGABYTE.357.CN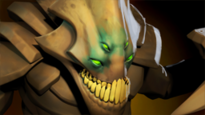 Sand King
Str

18 + 2.60

19 + 2.10

16 + 1.80

Hero description
The Sand King emphasizes area of effect damage more than most. All four of his abilities can damage multiple foes at once. Burrowstrike, his mainstay, damages and stuns targets in a line. In addition, when using this ability, the Sand King burrows to the target location which sets him up for additional attacks or spells. This can get him into trouble though, and to help evade counter attacks he uses Sand Storm. While active, this ability makes the Sand King invisible in the middle of a swirling storm of dust. Although he is unable to move while remaining invisible, nearby enemies will take damage as long as they remain in the storm. The Sand King can finish off groups off units with his Caustic Finale passive skill, which causes a deadly explosion every time he kills a unit with his physical attack. Epicenter, arguably Sand King's most deadly ability, creates a pulsing earthquake centered on his location. When combined with Burrowstrike, this ability is often fatal to fragile heroes, and leaves tougher enemies wounded and limping for safety.


Hide description
EH.GIGABYTE.PLT.CN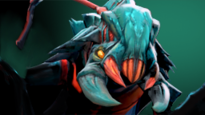 Weaver
Agi

15 + 1.50

14 + 2.50

15 + 1.80

Hero description
Although Weaver may be fragile, he more than counters this weakness with constant bursts of speed and invisibility, along with the ability to periodically deal double damage on attack. He is the master of in, out, and back in. He sends out swarms of beetles which latch onto foes to damage and create chaos. The beetles also reduce his prey's armor, making them vulnerable to team attacks. Finally, Weaver can Time Lapse into the recent past, returning him to the location, as well as to levels of health and mana, that he'd been at 5 seconds prior. Weaver is a paradox--quick and agile, extremely hard to kill due to Time Lapse, but also fragile if caught off guard.


Hide description
EH.GIGABYTE.FCB.CN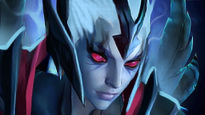 Vengeful Spirit
Agi

16 + 2.30

27 + 2.35

15 + 1.75

Hero description
Vengeful Spirit is so driven to seek revenge against her foes that she will sacrifice herself if it gives an advantage to her team. Her Magic Missiles stun and damage targets. Releasing Wave of Terror, she exposes an oncoming enemy while shredding its armor and dulling its ability to damage. Her lust for vengeance is contagious: nearby allies feel compelled to deal more damage. Even though she is not a particularly tough or agile hero, she will Swap her position with a key enemy or allied hero in an instant, disregarding her own safety for a promise of sweet revenge.


Hide description
EH.GIGABYTE.X!!.CN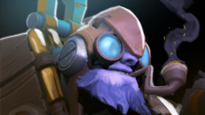 Tinker
Int

17 + 2.00

13 + 1.20

27 + 2.20

Hero description
In the early stages of a game, Tinker appears to be a straightforward offensive spellcasting hero, with two exceptionally dangerous single target abilities and a large Area of Effect ability. Laser deals extremely high damage to one enemy and temporarily blinds them, making it very deadly against fragile spellcasters and agility heroes who rely on their physical attacks. Heat Seeking Missile also does a lot of damage; it not only has a very long range, but will track a single enemy across the map, making it especially good for finishing off injured heroes. March of the Machines can be difficult to master, but it will cause a lot of pain if placed correctly--not to mention the amount of gold it can harvest from plentiful creep kills. However, Tinker's true power lies in Rearm. With enough mana, Tinker can launch a constant barrage of spells on his enemies. Rearm also refreshes the cooldown of most inventory items, making high-priced equipment with active abilities far more effective for Tinker than other heroes.


Hide description