V.Sockshka.Ksky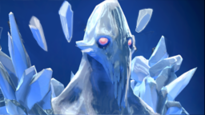 Ancient Apparition
Int

18 + 1.40

20 + 2.20

25 + 2.60

Hero description
Ancient Apparition is a versatile spellcaster with the unusual ability to strike enemies at long distances. With practice, his Ice Blast can strike any point on the battlefield, and deals damage in a wide diameter. It's perfect for laying waste to enemies clumped together in a fight and allows Ancient Apparition to be an integral part of team fights even when he's on the other side of the map. Cold Feet is useful to slow the movement speed of targets, and if afflicted enemies can't get safely out of range within four seconds, they'll be frozen in their tracks. This is particularly beneficial in team fights because an enemy that is frozen is an enemy that can't fight back. Ice Vortex is another of Ancient Apparition's abilities that focuses on immobilizing his enemies. Ice Vortex condenses Ancient Apparition's frost power into a single spinning vortex of ice that slows enemies while they are standing inside it and increases all magic damage taken. But Ancient Apparition's spells aren't limited just to increasing his own effectiveness in battle. Chilling Touch enchants allied heroes and gives bonus magical attack damage to your teammates.


Hide description
V.pseudo.ksky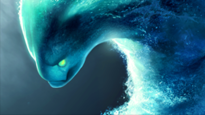 Morphling
Agi

19 + 2.00

24 + 3.00

17 + 1.50

Hero description
Morphling is a dynamic, protean hero, capable of giving or taking massive amounts of damage, at the player's discretion. Waveform allows him to escape or initiate fights with ease, while Adaptive Strike gives him a versatile nuke or stun. Replicate allows him to make a copy of a hero, and to take the place of the copy in an instant. Morphling's greatest strength, however, is his ability to swap his points between strength and agility, letting him change from tank to damage dealer and back again, as the tides of battle shift. Morphling is a dangerously mobile enemy, who must be treated with caution before he takes you by surprise!


Hide description
V.VT.Ksky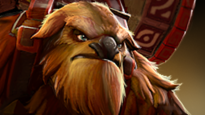 Earthshaker
Str

22 + 2.50

12 + 1.40

16 + 1.80

Hero description
Although the Earthshaker is a strength hero, his real power lies in his spells. With a well-placed Echo Slam, he can single-handedly level an entire team if his enemies are foolish enough to bunch together. His Fissure spell is very versatile. While it stuns and causes damage, it also creates an impassible wall of stone, trapping hapless foes between a rock and a hard place. Enchant Totem gives Earthshaker a significant damage boost for one attack, while his passive Aftershock ability causes a minor stun and damage effect every time he casts one of his spells. Although he is one of the more difficult heroes to use to his full capacity, he can be one of the most deadly in skilled hands.


Hide description
V.769.Ksky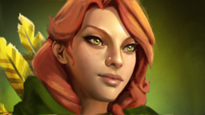 Windrunner
Int

15 + 2.50

17 + 1.40

22 + 2.60

Hero description
Although she is an intelligence hero, Windrunner's gameplay style resembles that of an agility hero in many ways. Most of the time she relies on her physical attack. Her archery skills are powerful to start with but also enjoys a steadily increasing rate of fire. Deadly Power Shots not only pierce the nearest target with massive damage, but continue on to damage any units in the line of fire. Due to its exceedingly long range, Power Shot is also excellent for picking off injured heroes as they flee. To stop enemies from fleeing in the first place, Windrunner has Shackleshot--one of the best single-target stuns in the game. Shackleshot allows Windrunner to shackle a target either to a tree or to another enemy unit, potentially stunning two heroes. Her third skill, Windrun, allows her to escape dangerous situations, position herself for good Shackleshots, and catch up to fleeing enemies. If Powershot isn't enough to take down a target, she can use Focus Fire. This powerful ability makes her attack a single enemy at the fastest possible rate; while it reduces her total damage, it has a long duration. Focus Fire is also highly effective against buildings and other stationary targets--and woe to the enemy hero who is first hit by Shackleshot, since they are now essentially a stationary target themselves.


Hide description
V.Mdj.Ksky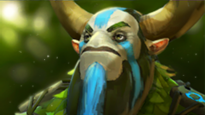 Nature's Prophet
Int

19 + 1.80

18 + 1.90

21 + 2.90

Hero description
Nature's Prophet is an unusual intelligence hero. His only damaging spell is his ultimate, Wrath of Nature, which is most effective when cast as far as possible from its intended victims. Instead of offensive spells, he relies on his physical attack and his allies to take down enemies. With his summoned army of Treants, he is a great lane pusher. His main advantage is his amazing mobility. Using Teleportation, he can jaunt anywhere on the battlefield at will. A player with good map awareness is invaluable help to his allies, since he can potentially join any battle, anywhere on the map. With Sprout, he can trap enemy heroes and then finish them off with his strong physical attack and allied help. He can summon an army of Treants with Nature's Call and quickly destroy enemy towers and structures before the enemy can regroup to retaliate. His final spell, Wrath of Nature, can be used to soften up targets across the map while drawing large amounts of gold from enemy creeps. Whether you wish to play Nature's Prophet, or effectively oppose him, map awareness is key.


Hide description
Maelk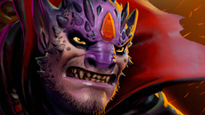 Lion
Int

16 + 1.70

15 + 1.50

22 + 3.00

Hero description
Lion is a strong offensive spellcaster with excellent disabling capabilities. Although his primary attack spell, Spike, deals relatively low damage, it has a long stun and can hit multiple targets easily. Its low damage is more than compensated for by Lion's Finger of Death, which deals very high damage to a single enemy target. Finger of Death is an excellent finishing spell for injured enemies. Although Spike alone is a good disabling spell, Lion has a second strong disable: Hex. Hex can transform an enemy hero into a critter for a few seconds, allowing Lion and his allies time to finish them off. Lion's spells all cost quite a bit of mana, but he can quickly regain it using Mana Drain. This spell is effective for draining an enemy hero's mana, or giving Lion a quick mana boost from a ranged creep. This hero is a good choice for newer players, but at the same time he is fragile and must walk a fine line between caution and aggression to emerge victorious.


Hide description
MYM.Razer.MiSeRy-
Mirana
Agi

17 + 1.85

20 + 2.75

17 + 1.65

Hero description
Mirana is known for her deadly Arrow, whose stunning impact is greater the farther it has flown. With Starstorm, she can call a deadly rain of stars upon enemies. Her agile mount's Leap carries her swiftly out of ambushes, or lets her swiftly close the distance to a fleeing prey, while gracing her allies with the shared gift of speed. Her ultimate, Moonlight Shadow, enables her to briefly render her entire team invisible, useful for surprise attacks as well as for retreat. Always hard to trap, Mirana is most feared when she is the one doing the hunting.


Hide description
MYM.Razer.MaNia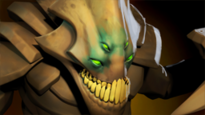 Sand King
Str

18 + 2.60

19 + 2.10

16 + 1.80

Hero description
The Sand King emphasizes area of effect damage more than most. All four of his abilities can damage multiple foes at once. Burrowstrike, his mainstay, damages and stuns targets in a line. In addition, when using this ability, the Sand King burrows to the target location which sets him up for additional attacks or spells. This can get him into trouble though, and to help evade counter attacks he uses Sand Storm. While active, this ability makes the Sand King invisible in the middle of a swirling storm of dust. Although he is unable to move while remaining invisible, nearby enemies will take damage as long as they remain in the storm. The Sand King can finish off groups off units with his Caustic Finale passive skill, which causes a deadly explosion every time he kills a unit with his physical attack. Epicenter, arguably Sand King's most deadly ability, creates a pulsing earthquake centered on his location. When combined with Burrowstrike, this ability is often fatal to fragile heroes, and leaves tougher enemies wounded and limping for safety.


Hide description
Firestorm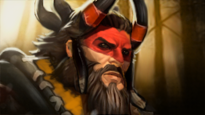 Beastmaster
Str

23 + 2.20

18 + 1.60

16 + 1.90

Hero description
Beastmaster is a well-rounded fighter, with many tactical options available for all types of combat. Although his physical attacks are melee, he can throw his axes at long range to slice through enemies, dealing lethal damage. His Primal Roar can turn the most organized defense into chaos, allowing Beastmaster and his allies to move in for the kill. His summoning skills serve as effective support for his blitz-style combat. Beastmaster's agile Hawk flies above the battlefield scouting for enemies, and the powerful slowing abilities of his Boar's spines give him time to finish off fleeing foes. A skilled Beastmaster is a deadly foe, capable of fighting any enemy on any terms and crushing them to a pulp.


Hide description
MYM.Razer.ThePlaymatE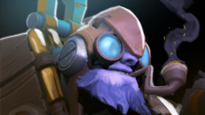 Tinker
Int

17 + 2.00

13 + 1.20

27 + 2.20

Hero description
In the early stages of a game, Tinker appears to be a straightforward offensive spellcasting hero, with two exceptionally dangerous single target abilities and a large Area of Effect ability. Laser deals extremely high damage to one enemy and temporarily blinds them, making it very deadly against fragile spellcasters and agility heroes who rely on their physical attacks. Heat Seeking Missile also does a lot of damage; it not only has a very long range, but will track a single enemy across the map, making it especially good for finishing off injured heroes. March of the Machines can be difficult to master, but it will cause a lot of pain if placed correctly--not to mention the amount of gold it can harvest from plentiful creep kills. However, Tinker's true power lies in Rearm. With enough mana, Tinker can launch a constant barrage of spells on his enemies. Rearm also refreshes the cooldown of most inventory items, making high-priced equipment with active abilities far more effective for Tinker than other heroes.


Hide description