MUFC`Sharky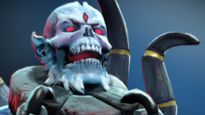 Lich
Int

18 + 1.55

15 + 2.00

18 + 3.25

Hero description
Mighty Lich is one of the best heroes at controlling a lane, thanks to his Frost Nova and Sacrifice spells. Frost Blast is a strong nuke that slows its target, giving Lich a good harassment tool. Repeatedly casting Frost Blast and harassing with physical attacks is a surefire way to quickly bring an enemy hero to his knees. However, Frost Blast becomes even more dangerous when coupled with Sacrifice. This spell allows Lich to destroy an allied creep and gain mana based on its life. Using this spell helps Lich by giving him limitless mana for Frost Blast, and hinders his enemies by denying them the experience or gold they would have gained from the destroyed creep. By using Frost Blast and Sacrifice liberally, the Lich can quickly force any opponent to retreat from his lane. Later in the game Lich tends to slide into a support role, using his Ice Armor spell to buff the survivability of his allies, and deploying his devastating Chain Frost to damage his foes in team battles.


Hide description
MUFC`SilverCross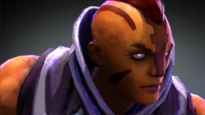 Anti-Mage
Agi

20 + 1.20

22 + 2.80

15 + 1.80

Hero description
Anti-Mage's passive Mana Break allows him to deal extra damage and deplete a spellcaster's supply of mana. As he grows into his powers, his Spell Shield makes him more resilient against magical attacks. Meanwhile, Blink gives him the ability to teleport across short distances for superb maneuverability. Seeking out weary casters, he uses Mana Void to inflict immense damage on those who are low on mana. Although Anti-Mage is disadvantaged against casters in the early game, his powers grow quickly, and there is no one better suited for destroying the greatest spellcasters at what ought to be their moment of triumph.


Hide description
MUFC`Ky.xY -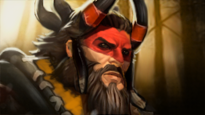 Beastmaster
Str

23 + 2.20

18 + 1.60

16 + 1.90

Hero description
Beastmaster is a well-rounded fighter, with many tactical options available for all types of combat. Although his physical attacks are melee, he can throw his axes at long range to slice through enemies, dealing lethal damage. His Primal Roar can turn the most organized defense into chaos, allowing Beastmaster and his allies to move in for the kill. His summoning skills serve as effective support for his blitz-style combat. Beastmaster's agile Hawk flies above the battlefield scouting for enemies, and the powerful slowing abilities of his Boar's spines give him time to finish off fleeing foes. A skilled Beastmaster is a deadly foe, capable of fighting any enemy on any terms and crushing them to a pulp.


Hide description
MUFC`ling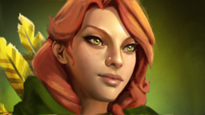 Windrunner
Int

15 + 2.50

17 + 1.40

22 + 2.60

Hero description
Although she is an intelligence hero, Windrunner's gameplay style resembles that of an agility hero in many ways. Most of the time she relies on her physical attack. Her archery skills are powerful to start with but also enjoys a steadily increasing rate of fire. Deadly Power Shots not only pierce the nearest target with massive damage, but continue on to damage any units in the line of fire. Due to its exceedingly long range, Power Shot is also excellent for picking off injured heroes as they flee. To stop enemies from fleeing in the first place, Windrunner has Shackleshot--one of the best single-target stuns in the game. Shackleshot allows Windrunner to shackle a target either to a tree or to another enemy unit, potentially stunning two heroes. Her third skill, Windrun, allows her to escape dangerous situations, position herself for good Shackleshots, and catch up to fleeing enemies. If Powershot isn't enough to take down a target, she can use Focus Fire. This powerful ability makes her attack a single enemy at the fastest possible rate; while it reduces her total damage, it has a long duration. Focus Fire is also highly effective against buildings and other stationary targets--and woe to the enemy hero who is first hit by Shackleshot, since they are now essentially a stationary target themselves.


Hide description
MUFC`Net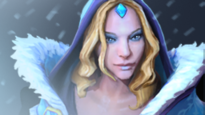 Crystal Maiden
Int

16 + 1.70

16 + 1.60

21 + 2.90

Hero description
The Crystal Maiden is a powerful disabler and support spellcaster. Each of her offensive spells impairs the enemy in some way, making her a valuable addition to any lineup. Crystal Nova blasts multiple enemies with chilling damage, while Frostbite completely paralyzes a single foe. Freezing Field causes immense damage and slows everything in a large area around her, but her natural fragility makes it a difficult spell to use to full effect. Her greatest asset to her team is Arcane Aura, which gives all her allies a significant boost to their mana regeneration, no matter where on the map they might be. Although she tends to take on a supportive role, the Crystal Maiden is still one of the most valuable heroes for any team.


Hide description
Maelk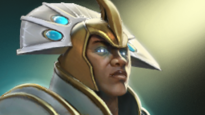 Chen
Int

20 + 1.50

15 + 2.10

21 + 2.80

Hero description
Chen's standard gameplay is different than most other heroes. Holy Persuasion allows him to convert creeps to his side, including powerful neutral creeps. As a result, Chen is usually found in the forest searching for creeps to convert. When he finds a strong creep or two, he descends on his unwary enemies, using both his own spells and the abilities of his persuaded creeps to take them out. Due to the difficulty of effectively controlling multiple units and abilities, Chen can be a tricky hero to play to his full potential. When ambushing enemies, Chen generally uses his Penitence ability, which slows the target and causes them to take extra damage from Chen's flock. Test of Faith can both finish off enemies, and also double as a way to save threatened allies by teleporting them to safety. Chen's support skills are rounded out by Hand of God, a healing spell which instantly restores a set amount of life to all allied heroes across the battlefield. Although Chen can be difficult for newer players, those who are skilled at controlling multiple units will find him very powerful.


Hide description
Firestorm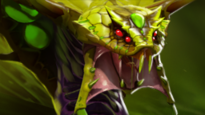 Venomancer
Agi

18 + 1.85

22 + 2.60

15 + 1.75

Hero description
Venomancer is a hideous monstrosity who casts an assortment of toxins to bring down his enemies. He uses a fast Venomous Gale attack to project his poison at all enemies in a narrow path in front of him, slowing victims greatly and dealing damage over time. His attacks are coated with Poisonous Stingers that both slow and damage afflicted enemies. He can summon Plague Wards to do his bidding-deploying them either far out in front of him to scout, or in the heart of the bloody battle itself, to fight and weaken enemies. The wards can also be used to push and block off routes of attack or escape. His ultimate attack, Poison Nova, unleashes a potent toxin in a large ring around his body, infecting everyone it hits, dealing large damage, but over a long time. Though this toxin isn't lethal, every other poison he carries is. He is exceptional at weakening enemies, and slowing them down so that they don't stand a chance in team fights.


Hide description
MYM.Razer.MaNia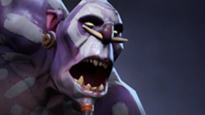 Witch Doctor
Int

16 + 1.80

13 + 1.40

24 + 2.90

Hero description
Witch Doctor is a fragile but deadly spellcaster with a unique method of eliminating his foes. His Maledict ability is feared by all, and has the potential for enormous amounts of damage. Heroes under the effect of Maledict will continue to take damage based on how much damage they have taken already. Using Paralyzing Casks, a clever Witch Doctor immobilizes his target, casts Maledict on them, then proceeds to cause as much damage as possible before they run. This is nearly always fatal if the Witch Doctor and his allies can injure the target a good amount after it is Maledicted. To aid in the destruction of his enemies, Witch Doctor can plant a potent Death Ward, which rapidly attacks nearby heroes as long as Witch Doctor channels it. Combined with Maledict and Paralyzing Cask, Death Ward is practically a guaranteed kill when ambushing an unsuspecting enemy hero. Voodoo Restoration turns him into a mobile healing fountain, quickly restoring the life of the Doctor and his allies in case an ambush doesn't go according to plan. Although Witch Doctor's Maledict combo is lethal on its own, it is even more dangerous when combined with allied attacks and spells.


Hide description
MYM.Razer.ThePlaymatE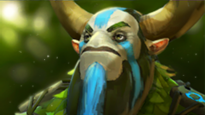 Nature's Prophet
Int

19 + 1.80

18 + 1.90

21 + 2.90

Hero description
Nature's Prophet is an unusual intelligence hero. His only damaging spell is his ultimate, Wrath of Nature, which is most effective when cast as far as possible from its intended victims. Instead of offensive spells, he relies on his physical attack and his allies to take down enemies. With his summoned army of Treants, he is a great lane pusher. His main advantage is his amazing mobility. Using Teleportation, he can jaunt anywhere on the battlefield at will. A player with good map awareness is invaluable help to his allies, since he can potentially join any battle, anywhere on the map. With Sprout, he can trap enemy heroes and then finish them off with his strong physical attack and allied help. He can summon an army of Treants with Nature's Call and quickly destroy enemy towers and structures before the enemy can regroup to retaliate. His final spell, Wrath of Nature, can be used to soften up targets across the map while drawing large amounts of gold from enemy creeps. Whether you wish to play Nature's Prophet, or effectively oppose him, map awareness is key.


Hide description
MYM.Razer.MiSeRy-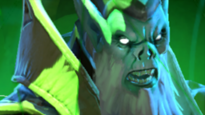 Necrolyte
Int

16 + 2.00

15 + 1.70

22 + 2.50

Hero description
Necrolyte is an unusual offensive spellcaster, since he has two passive skills and only one primary attack spell. However, this doesn't stop him from being one of the strongest offensive spellcasters around. Necrolyte's Death Pulse is his bread and butter. This powerful ability doubles as a damage spell and a healing spell, with both effects on every cast. Death Pulse hits all nearby heroes, causing damage to foes and healing both friends and Necrolyte himself. Since it has a short cooldown period, this spell can be cast very often, providing constant harassment to enemies while keeping allies in top form. To fuel this barrage, Necrolyte has a passive skill named Sadist which replenishes some of his mana every time he kills a unit. To further weaken his enemies, his powerful Hearstopper Aura slowly drains the life of all foes in a large area of effect around Necrolyte. When he sees a sufficiently injured enemy hero, Necrolyte uses Reaper's Scythe, which is arguably the best spell in the game for killing off damaged heroes. This deadly spell deals damage based on how much life the target is missing, so even the toughest heroes die as a fast as the fragile ones. A strong Necrolyte is nearly impossible to defeat, releasing constant Death Pulses and draining enemies' lives with Heartstopper Aura until they are finished.


Hide description