MiTH-TrlTnK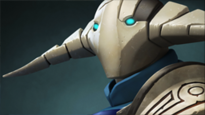 Sven
Str

23 + 2.70

21 + 2.00

14 + 1.30

Hero description
Sven's skills allow him to deal Area of Effect damage to several enemies at once. Storm Hammer, a powerful damage spell, stuns the target and surrounding units for several seconds, allowing Sven to catch up and strike them with his sword. Warcry gives Sven and nearby allies a temporary movement speed and armor bonus so they can charge quickly and fearlessly. Sven's foes must be wary of his powerful physical attacks, for God's Strength pumps his damage up to very high levels, while Cleave turns every attack into an Area of Effect strike. Although his strengths are straightforward, they are not to be underestimated. The best course of action when faced with a fully pumped Sven is to run.


Hide description
MiTH-Trll3nu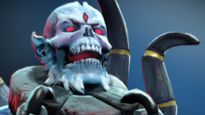 Lich
Int

18 + 1.55

15 + 2.00

18 + 3.25

Hero description
Mighty Lich is one of the best heroes at controlling a lane, thanks to his Frost Nova and Sacrifice spells. Frost Blast is a strong nuke that slows its target, giving Lich a good harassment tool. Repeatedly casting Frost Blast and harassing with physical attacks is a surefire way to quickly bring an enemy hero to his knees. However, Frost Blast becomes even more dangerous when coupled with Sacrifice. This spell allows Lich to destroy an allied creep and gain mana based on its life. Using this spell helps Lich by giving him limitless mana for Frost Blast, and hinders his enemies by denying them the experience or gold they would have gained from the destroyed creep. By using Frost Blast and Sacrifice liberally, the Lich can quickly force any opponent to retreat from his lane. Later in the game Lich tends to slide into a support role, using his Ice Armor spell to buff the survivability of his allies, and deploying his devastating Chain Frost to damage his foes in team battles.


Hide description
MiTH-TrlaabBAA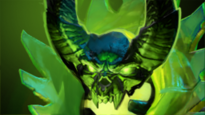 Pugna
Int

17 + 1.20

16 + 1.00

26 + 4.00

Hero description
Pugna is a fragile yet versatile spellcaster. Due to his massive intelligence gain per level, he has plenty of mana to cast his spells. Nether Blast is his primary method for dealing damage, and its large area of effect, high strength, and low cooldown make it good for harassing enemy heroes and killing creeps. In addition, Nether Blast also deals damage to towers, which makes Pugna a powerful sieging hero. Pugna's Decrepify spell is useful in several ways. It functions as a decent slowing spell for catching fleeing enemies, and it also amplifies spell damage against the target. Decrepify and Nether Blast make a powerful combination. Decrepify can also be cast on allies, and since it prevents the target from being hit by physical attacks, it gives clever Pugna players a way to deal with potentially troublesome physical attacks by Decrepifying either enemy heroes (which prevents them from attacking), or allied heroes (which prevents them from being attacked). Decrepified enemies can still cast spells, but with Pugna's Nether Ward placed nearby they will be struck by lightning whenever they use a skill. Finally, Pugna's natural fragility is somewhat mediated by his Life Drain spell, which rapidly heals Pugna while dealing a lot of damage to his target. Pugna is especially effective at shutting down enemy spellcasters with his Nether Ward, but his versatility makes him good in any situation.


Hide description
MiTH-TrlsD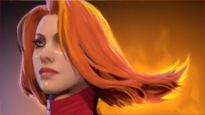 Lina
Int

18 + 1.50

16 + 1.50

27 + 3.20

Hero description
Lina is one of the deadliest offensive spellcasters, capable of killing fragile heroes with one combo of her spells. Her two main offensive spells provide a powerful Area of Effect combo. Dragon Slave fires a quick fiery projectile which deals good damage over a long range. Light Strike Array is Lina's stun spell; however, due to her relatively slow cast time it can be difficult to hit moving enemies with this spell. Many Lina players cast Light Strike Array immediately after an ally has cast another stun, making the spell much likelier to hit and prolonging the total disable time. To support her offensive gameplay style, Lina has a passive skill called Fiery Soul. Every time she casts any of her other spells, she gains a temporary movement- and attack-speed boost, allowing her to chase down fleeing enemies. Lina also has the most damaging single-target spell in the game: Laguna Blade. This devastating blast of energy is one of the best ways to finish off injured enemies. Often heroes who think themselves safe are blasted into oblivion by a single Laguna Blade.


Hide description
MiTH-TrlLK-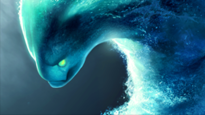 Morphling
Agi

19 + 2.00

24 + 3.00

17 + 1.50

Hero description
Morphling is a dynamic, protean hero, capable of giving or taking massive amounts of damage, at the player's discretion. Waveform allows him to escape or initiate fights with ease, while Adaptive Strike gives him a versatile nuke or stun. Replicate allows him to make a copy of a hero, and to take the place of the copy in an instant. Morphling's greatest strength, however, is his ability to swap his points between strength and agility, letting him change from tank to damage dealer and back again, as the tides of battle shift. Morphling is a dangerously mobile enemy, who must be treated with caution before he takes you by surprise!


Hide description
GGnet.KuroKy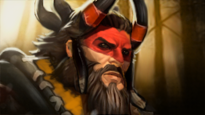 Beastmaster
Str

23 + 2.20

18 + 1.60

16 + 1.90

Hero description
Beastmaster is a well-rounded fighter, with many tactical options available for all types of combat. Although his physical attacks are melee, he can throw his axes at long range to slice through enemies, dealing lethal damage. His Primal Roar can turn the most organized defense into chaos, allowing Beastmaster and his allies to move in for the kill. His summoning skills serve as effective support for his blitz-style combat. Beastmaster's agile Hawk flies above the battlefield scouting for enemies, and the powerful slowing abilities of his Boar's spines give him time to finish off fleeing foes. A skilled Beastmaster is a deadly foe, capable of fighting any enemy on any terms and crushing them to a pulp.


Hide description
GGnet.Kebap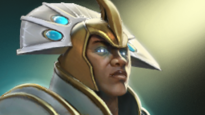 Chen
Int

20 + 1.50

15 + 2.10

21 + 2.80

Hero description
Chen's standard gameplay is different than most other heroes. Holy Persuasion allows him to convert creeps to his side, including powerful neutral creeps. As a result, Chen is usually found in the forest searching for creeps to convert. When he finds a strong creep or two, he descends on his unwary enemies, using both his own spells and the abilities of his persuaded creeps to take them out. Due to the difficulty of effectively controlling multiple units and abilities, Chen can be a tricky hero to play to his full potential. When ambushing enemies, Chen generally uses his Penitence ability, which slows the target and causes them to take extra damage from Chen's flock. Test of Faith can both finish off enemies, and also double as a way to save threatened allies by teleporting them to safety. Chen's support skills are rounded out by Hand of God, a healing spell which instantly restores a set amount of life to all allied heroes across the battlefield. Although Chen can be difficult for newer players, those who are skilled at controlling multiple units will find him very powerful.


Hide description
GGnet.AZEN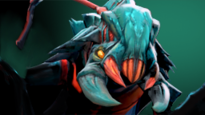 Weaver
Agi

15 + 1.50

14 + 2.50

15 + 1.80

Hero description
Although Weaver may be fragile, he more than counters this weakness with constant bursts of speed and invisibility, along with the ability to periodically deal double damage on attack. He is the master of in, out, and back in. He sends out swarms of beetles which latch onto foes to damage and create chaos. The beetles also reduce his prey's armor, making them vulnerable to team attacks. Finally, Weaver can Time Lapse into the recent past, returning him to the location, as well as to levels of health and mana, that he'd been at 5 seconds prior. Weaver is a paradox--quick and agile, extremely hard to kill due to Time Lapse, but also fragile if caught off guard.


Hide description
rmN)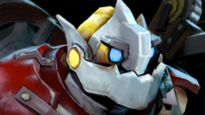 Clockwerk
Str

24 + 2.40

13 + 1.20

17 + 1.30

Hero description
Clockwerk is one of the most deadly ambush heroes in the game. Enemies who aren't careful will soon find themselves trapped and shredded by this tiny mechanical beast. Clockwerk is at his most dangerous when he is right on top of his target. Using Battery Assault, he repeatedly damages and stuns an adjacent foe. With proper positioning his Power Cogs can trap a single enemy next to him, while pushing their allies away. This combo is quite lethal to fragile heroes. To aid him in finding and binding himself to enemies, Clockwerk has Rocket Flare and Hookshot. Rocket Flare sends a missile into the battlefield, causing some damage and giving him Clockwerk vision of the targeted area. Hookshot fires a chain that latches onto enemy units with a damaging stun, then reels Clockwerk across the map and right to their side, poised to unleash his deadly Battery Assault and Power Cogs combo. Good awareness is the best counter to this small but deadly hero.


Hide description
GGnet.Miracle-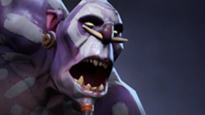 Witch Doctor
Int

16 + 1.80

13 + 1.40

24 + 2.90

Hero description
Witch Doctor is a fragile but deadly spellcaster with a unique method of eliminating his foes. His Maledict ability is feared by all, and has the potential for enormous amounts of damage. Heroes under the effect of Maledict will continue to take damage based on how much damage they have taken already. Using Paralyzing Casks, a clever Witch Doctor immobilizes his target, casts Maledict on them, then proceeds to cause as much damage as possible before they run. This is nearly always fatal if the Witch Doctor and his allies can injure the target a good amount after it is Maledicted. To aid in the destruction of his enemies, Witch Doctor can plant a potent Death Ward, which rapidly attacks nearby heroes as long as Witch Doctor channels it. Combined with Maledict and Paralyzing Cask, Death Ward is practically a guaranteed kill when ambushing an unsuspecting enemy hero. Voodoo Restoration turns him into a mobile healing fountain, quickly restoring the life of the Doctor and his allies in case an ambush doesn't go according to plan. Although Witch Doctor's Maledict combo is lethal on its own, it is even more dangerous when combined with allied attacks and spells.


Hide description