M5.NSLoveOlga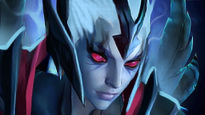 Vengeful Spirit
Agi

16 + 2.30

27 + 2.35

15 + 1.75

Hero description
Vengeful Spirit is so driven to seek revenge against her foes that she will sacrifice herself if it gives an advantage to her team. Her Magic Missiles stun and damage targets. Releasing Wave of Terror, she exposes an oncoming enemy while shredding its armor and dulling its ability to damage. Her lust for vengeance is contagious: nearby allies feel compelled to deal more damage. Even though she is not a particularly tough or agile hero, she will Swap her position with a key enemy or allied hero in an instant, disregarding her own safety for a promise of sweet revenge.


Hide description
M5.Dread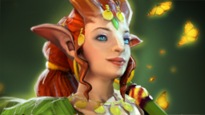 Enchantress
Int

16 + 1.00

19 + 1.80

16 + 2.80

Hero description
Enchantress, on first glance, seems to be your ordinary support hero, but this belies her aggressive offensive potential. With her Enchant ability, she can take control of forest creeps and their innate abilities. This allows her a wide range of powers and gives her a strong way to push towers or gank enemy heroes. Enchant can also slow enemy heroes; this combined with her Untouchable passive skill makes her difficult to attack. The Enchantress can also use her Healing Wisps to heal her allies after a battle. Her hidden strength, however, is Impetus, which deals more damage the farther away the enemy hero is, adding massive damage to her basic attacks.


Hide description
M5.G
Mirana
Agi

17 + 1.85

20 + 2.75

17 + 1.65

Hero description
Mirana is known for her deadly Arrow, whose stunning impact is greater the farther it has flown. With Starstorm, she can call a deadly rain of stars upon enemies. Her agile mount's Leap carries her swiftly out of ambushes, or lets her swiftly close the distance to a fleeing prey, while gracing her allies with the shared gift of speed. Her ultimate, Moonlight Shadow, enables her to briefly render her entire team invisible, useful for surprise attacks as well as for retreat. Always hard to trap, Mirana is most feared when she is the one doing the hunting.


Hide description
M5.Santa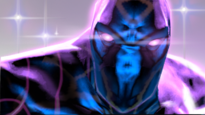 Enigma
Int

17 + 2.10

14 + 1.00

20 + 3.40

Hero description
Enigma change the course of a game with the cast of a single spell, but he is also an excellent support hero. Malefice is a unique stun, hitting a target swiftly several times instead of all at once. Ideal for running down enemy heroes, it also interrupts channeling for those spellcasters who rely on it. For sheer damage, Enigma relies on Conversion, which transforms a target creep into three Eidolons which multiply as they attack. Conversion can also be cast on neutral creeps--perfect for ambushes. Enigma's ultimate power, Black Hole, is a powerful channeling spell. Enemies caught in its horizon are disabled and dragged inevitably toward its deadly center, where Enigma's allies can concentrate their attacks. Enigma can add to the pain with Midnight Pulse, an Area of Effect spell that causes repeated damage based on the target's maximum life. Powerful alone, Enigma is strongest when supported by allies with strong Area of Effect spells, since they can take the greatest advantage of Black Hole.


Hide description
M5.AA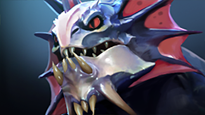 Slardar
Str

21 + 2.80

17 + 2.40

15 + 1.50

Hero description
Slardar is a powerful close-range stunner who depends on physical damage. He excels at chasing down fragile heroes and Bashing them into the dirt. Slithereen Crush and Bash allow him to stun and damage a target, then follow up with additional bashes to keep them stunned while he finishes them off. In order to get into close enough to use his stun skills, Slardar relies on Sprint. Sprint gives him a massive movement-speed bonus for a relatively long duration, but comes with the negative side effect of making him take extra damage from enemy attacks and spells. Slardar may find himself Sprinting right into a trap, with his increased vulnerability putting a sudden end to his pursuit. Amplify Damage allows Slardar to keep an eye on his target, while drastically reducing their armor, making them easy prey for his powerful attacks once he has chased them down. When faced with this dangerous hero, it's best to keep as far away as possible.


Hide description
MUFC`Sharky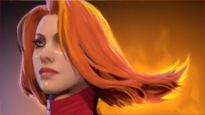 Lina
Int

18 + 1.50

16 + 1.50

27 + 3.20

Hero description
Lina is one of the deadliest offensive spellcasters, capable of killing fragile heroes with one combo of her spells. Her two main offensive spells provide a powerful Area of Effect combo. Dragon Slave fires a quick fiery projectile which deals good damage over a long range. Light Strike Array is Lina's stun spell; however, due to her relatively slow cast time it can be difficult to hit moving enemies with this spell. Many Lina players cast Light Strike Array immediately after an ally has cast another stun, making the spell much likelier to hit and prolonging the total disable time. To support her offensive gameplay style, Lina has a passive skill called Fiery Soul. Every time she casts any of her other spells, she gains a temporary movement- and attack-speed boost, allowing her to chase down fleeing enemies. Lina also has the most damaging single-target spell in the game: Laguna Blade. This devastating blast of energy is one of the best ways to finish off injured enemies. Often heroes who think themselves safe are blasted into oblivion by a single Laguna Blade.


Hide description
MUFC`SilverCross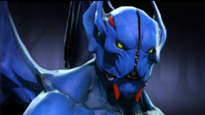 Night Stalker
Str

23 + 2.80

18 + 2.25

16 + 1.60

Hero description
You had better take advantage of the daylight while you can, since come nightfall you will be up against a powerful and adept hunter. Night Stalker's passive Hunter in the Night increases his movement and attack speed at night, making him a feared ganker and chaser whenever the sun is down. His Void spell damages a target and slows them to a crawl, allowing Night Stalker and his allies to deal great amounts of damage. Crippling Fear is a powerful weapon against spellcasters and fighters alike, as it both silences enemies and increases the chance that their physical attacks will miss the target. It is said that you have little to fear from Night Stalker when the sun is high--however, his ultimate ability, Darkness, allows him to instantly turn day into night (or prolong the night that has already fallen), giving his other spells their fullest effect.


Hide description
MUFC`Net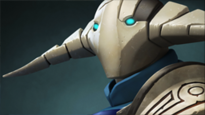 Sven
Str

23 + 2.70

21 + 2.00

14 + 1.30

Hero description
Sven's skills allow him to deal Area of Effect damage to several enemies at once. Storm Hammer, a powerful damage spell, stuns the target and surrounding units for several seconds, allowing Sven to catch up and strike them with his sword. Warcry gives Sven and nearby allies a temporary movement speed and armor bonus so they can charge quickly and fearlessly. Sven's foes must be wary of his powerful physical attacks, for God's Strength pumps his damage up to very high levels, while Cleave turns every attack into an Area of Effect strike. Although his strengths are straightforward, they are not to be underestimated. The best course of action when faced with a fully pumped Sven is to run.


Hide description
MUFC`ling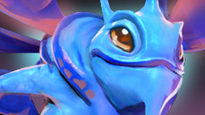 Puck
Int

15 + 1.70

22 + 1.70

25 + 2.40

Hero description
Loved by aggressive players everywhere, Puck is one of the best heroes for starting fights. Puck's highly flexible skill set is useful in any situation, making Puck a great hero in both support and offensive roles. Illusory Orb functions like a regular line damage spell--yet at any point along its course, Puck can use Ethereal Jaunt to instantly teleport to Illusory Orb's position. This makes the spell useful for both attacking and escaping. It also meshes perfectly with Puck's offensive spell, Waning Rift. Waning Rift deals damage and silence in an area around Puck, making it the natural choice for use after an Illusory Orb and Ethereal Jaunt. Puck's final offensive spell, Dream Coil, can be used either before or after this combo with great effect. Trapping enemies in a small area, Dream Coil forces them to remain near the target point or take damage and get stunned. Phase Shift, meanwhile, renders Puck invulnerable for several seconds--a highly useful skill on the frequent occasions when Puck ends up right in the middle of the fray. Puck is a relatively easy hero to pick up, and a highly rewarding one to master.


Hide description
MUFC`Ky.xY -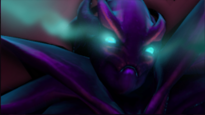 Spectre
Agi

19 + 2.00

23 + 2.20

16 + 1.90

Hero description
Spectre is complex melee fighter with a unique series of special attack skills. She's able to Desolate opponents for pure damage if she catches them alone. She can also Disperse incoming damage, deflecting it into the area around her. She can hurl a Spectral Dagger at opponents, slowing and damaging enemies while at the same time allowing her to pass through material objects and travel across any terrain. Her ultimate weapon though, and the thing that sets her apart from all others, is her Haunt ability. She should be feared as a constant presence, being able to Haunt all enemy heroes on the battlefield at once, appearing out of nowhere to harass and confuse an entire enemy force, no matter where they are on the map. Haunt is a great strategy tool, as she can then take over one of her phantom images to physically enter a fight at the location that give her best advantage.


Hide description