MiTH-TrlTnK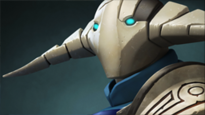 Sven
Str

23 + 2.70

21 + 2.00

14 + 1.30

Hero description
Sven's skills allow him to deal Area of Effect damage to several enemies at once. Storm Hammer, a powerful damage spell, stuns the target and surrounding units for several seconds, allowing Sven to catch up and strike them with his sword. Warcry gives Sven and nearby allies a temporary movement speed and armor bonus so they can charge quickly and fearlessly. Sven's foes must be wary of his powerful physical attacks, for God's Strength pumps his damage up to very high levels, while Cleave turns every attack into an Area of Effect strike. Although his strengths are straightforward, they are not to be underestimated. The best course of action when faced with a fully pumped Sven is to run.


Hide description
MiTH-Trll3nu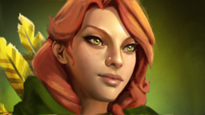 Windrunner
Int

15 + 2.50

17 + 1.40

22 + 2.60

Hero description
Although she is an intelligence hero, Windrunner's gameplay style resembles that of an agility hero in many ways. Most of the time she relies on her physical attack. Her archery skills are powerful to start with but also enjoys a steadily increasing rate of fire. Deadly Power Shots not only pierce the nearest target with massive damage, but continue on to damage any units in the line of fire. Due to its exceedingly long range, Power Shot is also excellent for picking off injured heroes as they flee. To stop enemies from fleeing in the first place, Windrunner has Shackleshot--one of the best single-target stuns in the game. Shackleshot allows Windrunner to shackle a target either to a tree or to another enemy unit, potentially stunning two heroes. Her third skill, Windrun, allows her to escape dangerous situations, position herself for good Shackleshots, and catch up to fleeing enemies. If Powershot isn't enough to take down a target, she can use Focus Fire. This powerful ability makes her attack a single enemy at the fastest possible rate; while it reduces her total damage, it has a long duration. Focus Fire is also highly effective against buildings and other stationary targets--and woe to the enemy hero who is first hit by Shackleshot, since they are now essentially a stationary target themselves.


Hide description
MiTH-TrlaabBAA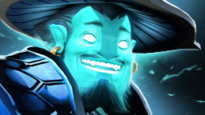 Storm Spirit
Int

19 + 1.50

22 + 1.80

23 + 2.60

Hero description
A hero for adrenaline junkies, Storm Spirit provides arguably the best nonstop movement of any hero, and is commonly seen bouncing around the battlefield, zapping his foes and zippingaway. Storm Spirit mixes up physical attacks spell damage. Static Remnant lays down a flickering electrical clone, which on contact will explode, delivering shocks to all foes in the vicinity. Electric Vortex is a powerful disabling spell, which Storm Spirit uses to reel in enemies; he especially likes to reel them into a Static Remnant. Completing this combo, Overload adds a blast of electricity to every spell he casts. Storm Spirit's ultimate ability is Ball Lightning, a teleportation spell with no cooldown and no maximum range, which gives Storm Spirit the ability to zap around the map as long as his mana and regeneration don't give out. Like a storm, this hero gathers strength slowly, but once at full power, he is an unstoppable force of nature.


Hide description
MiTH-TrlsD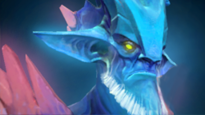 Leshrac
Int

16 + 1.50

23 + 1.70

26 + 3.00

Hero description
Leshrac's four skills all focus on dealing a lot of damage to his enemies in a variety of ways. He is one of the most powerful direct damage spellcasters, and his spells can even out-damage pumped up physical attack heroes late in the game. Split Earth is an area of effect stun. Although new players will find it can be difficult to hit, it has a relatively low cooldown and is sure to cause a lot of pain if it does connect. Diabolic Edict is an extremely effective spell if used well, causing a huge amount of damage if it hits a single enemy hero for its entire duration. Since it deals physical damage, it is excellent at destroying buildings and fighting magic immune heroes. Lightning Storm is a straightforward spell, but since the cooldown period is only 6 seconds long, it is one of the best harassment spells around. In addition, each bounce deals full damage, allowing clever Leshrac players to hit foes from very long range by targeting creeps and letting the lightning bounce to the intended victim. Pulse Nova is Leshrac's final offensive spell, and can potentially deal the most damage of any of his abilities. Although it costs huge amounts of mana to sustain, the damage output of this spell is very high, especially in large battles where it can hit many targets at once.


Hide description
MiTH-TrlLK-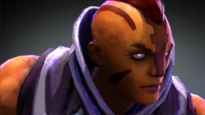 Anti-Mage
Agi

20 + 1.20

22 + 2.80

15 + 1.80

Hero description
Anti-Mage's passive Mana Break allows him to deal extra damage and deplete a spellcaster's supply of mana. As he grows into his powers, his Spell Shield makes him more resilient against magical attacks. Meanwhile, Blink gives him the ability to teleport across short distances for superb maneuverability. Seeking out weary casters, he uses Mana Void to inflict immense damage on those who are low on mana. Although Anti-Mage is disadvantaged against casters in the early game, his powers grow quickly, and there is no one better suited for destroying the greatest spellcasters at what ought to be their moment of triumph.


Hide description
MUFC`Sharky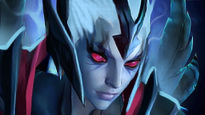 Vengeful Spirit
Agi

16 + 2.30

27 + 2.35

15 + 1.75

Hero description
Vengeful Spirit is so driven to seek revenge against her foes that she will sacrifice herself if it gives an advantage to her team. Her Magic Missiles stun and damage targets. Releasing Wave of Terror, she exposes an oncoming enemy while shredding its armor and dulling its ability to damage. Her lust for vengeance is contagious: nearby allies feel compelled to deal more damage. Even though she is not a particularly tough or agile hero, she will Swap her position with a key enemy or allied hero in an instant, disregarding her own safety for a promise of sweet revenge.


Hide description
MUFC`SilverCross
Mirana
Agi

17 + 1.85

20 + 2.75

17 + 1.65

Hero description
Mirana is known for her deadly Arrow, whose stunning impact is greater the farther it has flown. With Starstorm, she can call a deadly rain of stars upon enemies. Her agile mount's Leap carries her swiftly out of ambushes, or lets her swiftly close the distance to a fleeing prey, while gracing her allies with the shared gift of speed. Her ultimate, Moonlight Shadow, enables her to briefly render her entire team invisible, useful for surprise attacks as well as for retreat. Always hard to trap, Mirana is most feared when she is the one doing the hunting.


Hide description
MUFC`Net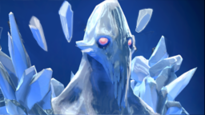 Ancient Apparition
Int

18 + 1.40

20 + 2.20

25 + 2.60

Hero description
Ancient Apparition is a versatile spellcaster with the unusual ability to strike enemies at long distances. With practice, his Ice Blast can strike any point on the battlefield, and deals damage in a wide diameter. It's perfect for laying waste to enemies clumped together in a fight and allows Ancient Apparition to be an integral part of team fights even when he's on the other side of the map. Cold Feet is useful to slow the movement speed of targets, and if afflicted enemies can't get safely out of range within four seconds, they'll be frozen in their tracks. This is particularly beneficial in team fights because an enemy that is frozen is an enemy that can't fight back. Ice Vortex is another of Ancient Apparition's abilities that focuses on immobilizing his enemies. Ice Vortex condenses Ancient Apparition's frost power into a single spinning vortex of ice that slows enemies while they are standing inside it and increases all magic damage taken. But Ancient Apparition's spells aren't limited just to increasing his own effectiveness in battle. Chilling Touch enchants allied heroes and gives bonus magical attack damage to your teammates.


Hide description
MUFC`ling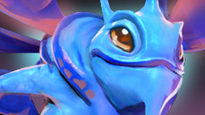 Puck
Int

15 + 1.70

22 + 1.70

25 + 2.40

Hero description
Loved by aggressive players everywhere, Puck is one of the best heroes for starting fights. Puck's highly flexible skill set is useful in any situation, making Puck a great hero in both support and offensive roles. Illusory Orb functions like a regular line damage spell--yet at any point along its course, Puck can use Ethereal Jaunt to instantly teleport to Illusory Orb's position. This makes the spell useful for both attacking and escaping. It also meshes perfectly with Puck's offensive spell, Waning Rift. Waning Rift deals damage and silence in an area around Puck, making it the natural choice for use after an Illusory Orb and Ethereal Jaunt. Puck's final offensive spell, Dream Coil, can be used either before or after this combo with great effect. Trapping enemies in a small area, Dream Coil forces them to remain near the target point or take damage and get stunned. Phase Shift, meanwhile, renders Puck invulnerable for several seconds--a highly useful skill on the frequent occasions when Puck ends up right in the middle of the fray. Puck is a relatively easy hero to pick up, and a highly rewarding one to master.


Hide description
MUFC`Ky.xY -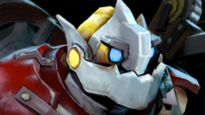 Clockwerk
Str

24 + 2.40

13 + 1.20

17 + 1.30

Hero description
Clockwerk is one of the most deadly ambush heroes in the game. Enemies who aren't careful will soon find themselves trapped and shredded by this tiny mechanical beast. Clockwerk is at his most dangerous when he is right on top of his target. Using Battery Assault, he repeatedly damages and stuns an adjacent foe. With proper positioning his Power Cogs can trap a single enemy next to him, while pushing their allies away. This combo is quite lethal to fragile heroes. To aid him in finding and binding himself to enemies, Clockwerk has Rocket Flare and Hookshot. Rocket Flare sends a missile into the battlefield, causing some damage and giving him Clockwerk vision of the targeted area. Hookshot fires a chain that latches onto enemy units with a damaging stun, then reels Clockwerk across the map and right to their side, poised to unleash his deadly Battery Assault and Power Cogs combo. Good awareness is the best counter to this small but deadly hero.


Hide description