EH.GIGABYTE.820.CN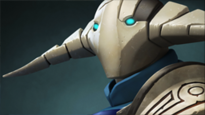 Sven
Str

23 + 2.70

21 + 2.00

14 + 1.30

Hero description
Sven's skills allow him to deal Area of Effect damage to several enemies at once. Storm Hammer, a powerful damage spell, stuns the target and surrounding units for several seconds, allowing Sven to catch up and strike them with his sword. Warcry gives Sven and nearby allies a temporary movement speed and armor bonus so they can charge quickly and fearlessly. Sven's foes must be wary of his powerful physical attacks, for God's Strength pumps his damage up to very high levels, while Cleave turns every attack into an Area of Effect strike. Although his strengths are straightforward, they are not to be underestimated. The best course of action when faced with a fully pumped Sven is to run.


Hide description
EH.GIGABYTE.357.CN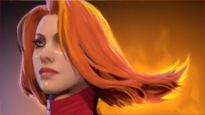 Lina
Int

18 + 1.50

16 + 1.50

27 + 3.20

Hero description
Lina is one of the deadliest offensive spellcasters, capable of killing fragile heroes with one combo of her spells. Her two main offensive spells provide a powerful Area of Effect combo. Dragon Slave fires a quick fiery projectile which deals good damage over a long range. Light Strike Array is Lina's stun spell; however, due to her relatively slow cast time it can be difficult to hit moving enemies with this spell. Many Lina players cast Light Strike Array immediately after an ally has cast another stun, making the spell much likelier to hit and prolonging the total disable time. To support her offensive gameplay style, Lina has a passive skill called Fiery Soul. Every time she casts any of her other spells, she gains a temporary movement- and attack-speed boost, allowing her to chase down fleeing enemies. Lina also has the most damaging single-target spell in the game: Laguna Blade. This devastating blast of energy is one of the best ways to finish off injured enemies. Often heroes who think themselves safe are blasted into oblivion by a single Laguna Blade.


Hide description
EH.GIGABYTE.FCB.CN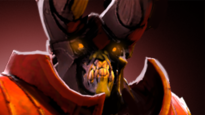 Doom Bringer
Str

26 + 3.20

11 + 0.90

13 + 2.10

Hero description
The mighty Doom Bringer is a versatile and dangerous foe. His offensive spells are very damaging. LVL? Death allows him to pick off heroes at range, dealing extra damage against heroes of certain levels. The dreaded Doom is one of the most feared spells in the game, and with good reason. Not only does it deal massive Damage Over Time to its target, it also silences them completely for the duration. Although Doom Bringer is no pushover in physical combat, he lacks any dedicated fighting abilities. Instead, he uses Devour to take on the abilities of the creeps he ingests, and buffs his movement and attack speed with Scorched Earth. With his good income, strong damage spells, and the ability to effectively knock a single enemy hero out of a fight, Doom Bringer is a formidable opponent in any matchup.


Hide description
EH.GIGABYTE.PLT.CN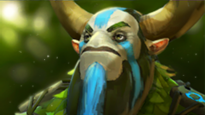 Nature's Prophet
Int

19 + 1.80

18 + 1.90

21 + 2.90

Hero description
Nature's Prophet is an unusual intelligence hero. His only damaging spell is his ultimate, Wrath of Nature, which is most effective when cast as far as possible from its intended victims. Instead of offensive spells, he relies on his physical attack and his allies to take down enemies. With his summoned army of Treants, he is a great lane pusher. His main advantage is his amazing mobility. Using Teleportation, he can jaunt anywhere on the battlefield at will. A player with good map awareness is invaluable help to his allies, since he can potentially join any battle, anywhere on the map. With Sprout, he can trap enemy heroes and then finish them off with his strong physical attack and allied help. He can summon an army of Treants with Nature's Call and quickly destroy enemy towers and structures before the enemy can regroup to retaliate. His final spell, Wrath of Nature, can be used to soften up targets across the map while drawing large amounts of gold from enemy creeps. Whether you wish to play Nature's Prophet, or effectively oppose him, map awareness is key.


Hide description
EH.GIGABYTE.X!!.CN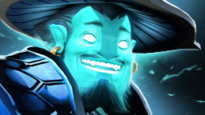 Storm Spirit
Int

19 + 1.50

22 + 1.80

23 + 2.60

Hero description
A hero for adrenaline junkies, Storm Spirit provides arguably the best nonstop movement of any hero, and is commonly seen bouncing around the battlefield, zapping his foes and zippingaway. Storm Spirit mixes up physical attacks spell damage. Static Remnant lays down a flickering electrical clone, which on contact will explode, delivering shocks to all foes in the vicinity. Electric Vortex is a powerful disabling spell, which Storm Spirit uses to reel in enemies; he especially likes to reel them into a Static Remnant. Completing this combo, Overload adds a blast of electricity to every spell he casts. Storm Spirit's ultimate ability is Ball Lightning, a teleportation spell with no cooldown and no maximum range, which gives Storm Spirit the ability to zap around the map as long as his mana and regeneration don't give out. Like a storm, this hero gathers strength slowly, but once at full power, he is an unstoppable force of nature.


Hide description
Mski-Inf.wOotz.ASUS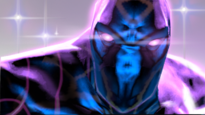 Enigma
Int

17 + 2.10

14 + 1.00

20 + 3.40

Hero description
Enigma change the course of a game with the cast of a single spell, but he is also an excellent support hero. Malefice is a unique stun, hitting a target swiftly several times instead of all at once. Ideal for running down enemy heroes, it also interrupts channeling for those spellcasters who rely on it. For sheer damage, Enigma relies on Conversion, which transforms a target creep into three Eidolons which multiply as they attack. Conversion can also be cast on neutral creeps--perfect for ambushes. Enigma's ultimate power, Black Hole, is a powerful channeling spell. Enemies caught in its horizon are disabled and dragged inevitably toward its deadly center, where Enigma's allies can concentrate their attacks. Enigma can add to the pain with Midnight Pulse, an Area of Effect spell that causes repeated damage based on the target's maximum life. Powerful alone, Enigma is strongest when supported by allies with strong Area of Effect spells, since they can take the greatest advantage of Black Hole.


Hide description
Mski.Inf.Vash-ASUS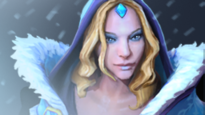 Crystal Maiden
Int

16 + 1.70

16 + 1.60

21 + 2.90

Hero description
The Crystal Maiden is a powerful disabler and support spellcaster. Each of her offensive spells impairs the enemy in some way, making her a valuable addition to any lineup. Crystal Nova blasts multiple enemies with chilling damage, while Frostbite completely paralyzes a single foe. Freezing Field causes immense damage and slows everything in a large area around her, but her natural fragility makes it a difficult spell to use to full effect. Her greatest asset to her team is Arcane Aura, which gives all her allies a significant boost to their mana regeneration, no matter where on the map they might be. Although she tends to take on a supportive role, the Crystal Maiden is still one of the most valuable heroes for any team.


Hide description
Mski-Inf.John.ASUS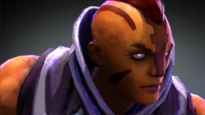 Anti-Mage
Agi

20 + 1.20

22 + 2.80

15 + 1.80

Hero description
Anti-Mage's passive Mana Break allows him to deal extra damage and deplete a spellcaster's supply of mana. As he grows into his powers, his Spell Shield makes him more resilient against magical attacks. Meanwhile, Blink gives him the ability to teleport across short distances for superb maneuverability. Seeking out weary casters, he uses Mana Void to inflict immense damage on those who are low on mana. Although Anti-Mage is disadvantaged against casters in the early game, his powers grow quickly, and there is no one better suited for destroying the greatest spellcasters at what ought to be their moment of triumph.


Hide description
Mineski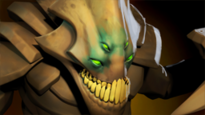 Sand King
Str

18 + 2.60

19 + 2.10

16 + 1.80

Hero description
The Sand King emphasizes area of effect damage more than most. All four of his abilities can damage multiple foes at once. Burrowstrike, his mainstay, damages and stuns targets in a line. In addition, when using this ability, the Sand King burrows to the target location which sets him up for additional attacks or spells. This can get him into trouble though, and to help evade counter attacks he uses Sand Storm. While active, this ability makes the Sand King invisible in the middle of a swirling storm of dust. Although he is unable to move while remaining invisible, nearby enemies will take damage as long as they remain in the storm. The Sand King can finish off groups off units with his Caustic Finale passive skill, which causes a deadly explosion every time he kills a unit with his physical attack. Epicenter, arguably Sand King's most deadly ability, creates a pulsing earthquake centered on his location. When combined with Burrowstrike, this ability is often fatal to fragile heroes, and leaves tougher enemies wounded and limping for safety.


Hide description
Mski.inf.JuLz.ASUS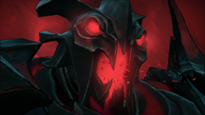 Shadow Fiend
Agi

15 + 2.00

20 + 2.90

18 + 2.00

Hero description
Shadow Fiend's only defense lies in his superb offense. After every life he takes, he traps their soul to empower his attack damage with Necromastery. This allows him to amass high attack damage. His ultimate, Requiem of Souls, can summon these souls to inflict great damage on those enemies foolish enough to venture within reach. His unique Shadowraze allows him to blast opponents in small areas, at three separate distances. Another ability, Presence of the Dark Lord, makes enemies more vulnerable to physical damage, passively reducing their armor. Deadly from a number of distances, but vulnerable if caught off guard, Shadow Fiend's positioning in battle is of utmost importance.


Hide description