SGC.craNich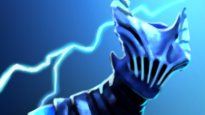 Razor
Agi

21 + 1.70

22 + 2.00

19 + 1.80

Hero description
Razor is a hero with a wide variety of lightning-based attacks. Although somewhat fragile at the start of the battle, he can nonetheless be used effectively to push lanes and can be vitally important in team fights. His Static Link completes the circuit between himself and an enemy, stealing damage from the target and adding it to his own. His passive Unstable Current increases movement speed and deflects damage back at attackers. His ultimate weapon, Eye of the Storm, calls down the power of the storm upon his enemies, creating an area of effect in which lighting strikes randomly down on the heads of his foes. Razor's most eye-catching ability though is also usually the first one he earns: Plasma Field. A great tool for intimidation and controlling the lanes, this ability expels a powerful ring of excited plasma that expands to envelope all units around Razor, dealing damage to enemy creeps and heroes alike.


Hide description
SGC.tONICEK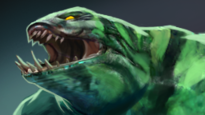 Tidehunter
Str

22 + 3.00

15 + 1.50

16 + 1.70

Hero description
A massive leviathan of incredible strength and toughness, Tidehunter is a real tank. Using his Gush skill, he can slow and damage a single target while reducing their armor, allowing him and his allies to pummel the target to a pulp. To aid his close combat skills, Tidehunter has a powerful Anchor Smash spell, which he can use to unleash a devastating area of effect spin attack. A target of Gush who is hit by an Anchor Smash or two is in deep trouble. To protect himself while chasing down and smashing enemies, Tidehunter has a passive: Kraken Shell. This ability reduces all damage from physical attacks by a set number, allowing the Leviathan to wade into combat without fear, ignoring the blows of lesser foes. Kraken Shell also occasionally dispels negative spell effects, making him even more difficult to stop. By far the most feared ability of the Tidehunter is Ravage. This mighty ability allows the Tidehunter to cause immense damage and stun all enemies in a large area around him. This ability is most effective in large team battles, where it is a simple matter to hit the entire enemy team at once with its writhing tentacles, setting up the Tidehunter and his allies for an easy victory.


Hide description
SGC.Warlog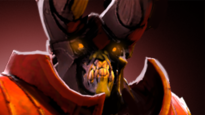 Doom Bringer
Str

26 + 3.20

11 + 0.90

13 + 2.10

Hero description
The mighty Doom Bringer is a versatile and dangerous foe. His offensive spells are very damaging. LVL? Death allows him to pick off heroes at range, dealing extra damage against heroes of certain levels. The dreaded Doom is one of the most feared spells in the game, and with good reason. Not only does it deal massive Damage Over Time to its target, it also silences them completely for the duration. Although Doom Bringer is no pushover in physical combat, he lacks any dedicated fighting abilities. Instead, he uses Devour to take on the abilities of the creeps he ingests, and buffs his movement and attack speed with Scorched Earth. With his good income, strong damage spells, and the ability to effectively knock a single enemy hero out of a fight, Doom Bringer is a formidable opponent in any matchup.


Hide description
†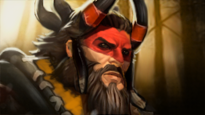 Beastmaster
Str

23 + 2.20

18 + 1.60

16 + 1.90

Hero description
Beastmaster is a well-rounded fighter, with many tactical options available for all types of combat. Although his physical attacks are melee, he can throw his axes at long range to slice through enemies, dealing lethal damage. His Primal Roar can turn the most organized defense into chaos, allowing Beastmaster and his allies to move in for the kill. His summoning skills serve as effective support for his blitz-style combat. Beastmaster's agile Hawk flies above the battlefield scouting for enemies, and the powerful slowing abilities of his Boar's spines give him time to finish off fleeing foes. A skilled Beastmaster is a deadly foe, capable of fighting any enemy on any terms and crushing them to a pulp.


Hide description
SGC.Iacek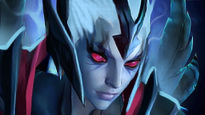 Vengeful Spirit
Agi

16 + 2.30

27 + 2.35

15 + 1.75

Hero description
Vengeful Spirit is so driven to seek revenge against her foes that she will sacrifice herself if it gives an advantage to her team. Her Magic Missiles stun and damage targets. Releasing Wave of Terror, she exposes an oncoming enemy while shredding its armor and dulling its ability to damage. Her lust for vengeance is contagious: nearby allies feel compelled to deal more damage. Even though she is not a particularly tough or agile hero, she will Swap her position with a key enemy or allied hero in an instant, disregarding her own safety for a promise of sweet revenge.


Hide description
iG.Zhou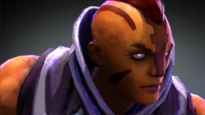 Anti-Mage
Agi

20 + 1.20

22 + 2.80

15 + 1.80

Hero description
Anti-Mage's passive Mana Break allows him to deal extra damage and deplete a spellcaster's supply of mana. As he grows into his powers, his Spell Shield makes him more resilient against magical attacks. Meanwhile, Blink gives him the ability to teleport across short distances for superb maneuverability. Seeking out weary casters, he uses Mana Void to inflict immense damage on those who are low on mana. Although Anti-Mage is disadvantaged against casters in the early game, his powers grow quickly, and there is no one better suited for destroying the greatest spellcasters at what ought to be their moment of triumph.


Hide description
iG.xiao8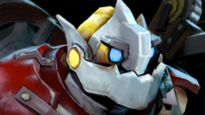 Clockwerk
Str

24 + 2.40

13 + 1.20

17 + 1.30

Hero description
Clockwerk is one of the most deadly ambush heroes in the game. Enemies who aren't careful will soon find themselves trapped and shredded by this tiny mechanical beast. Clockwerk is at his most dangerous when he is right on top of his target. Using Battery Assault, he repeatedly damages and stuns an adjacent foe. With proper positioning his Power Cogs can trap a single enemy next to him, while pushing their allies away. This combo is quite lethal to fragile heroes. To aid him in finding and binding himself to enemies, Clockwerk has Rocket Flare and Hookshot. Rocket Flare sends a missile into the battlefield, causing some damage and giving him Clockwerk vision of the targeted area. Hookshot fires a chain that latches onto enemy units with a damaging stun, then reels Clockwerk across the map and right to their side, poised to unleash his deadly Battery Assault and Power Cogs combo. Good awareness is the best counter to this small but deadly hero.


Hide description
iG.430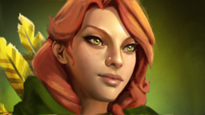 Windrunner
Int

15 + 2.50

17 + 1.40

22 + 2.60

Hero description
Although she is an intelligence hero, Windrunner's gameplay style resembles that of an agility hero in many ways. Most of the time she relies on her physical attack. Her archery skills are powerful to start with but also enjoys a steadily increasing rate of fire. Deadly Power Shots not only pierce the nearest target with massive damage, but continue on to damage any units in the line of fire. Due to its exceedingly long range, Power Shot is also excellent for picking off injured heroes as they flee. To stop enemies from fleeing in the first place, Windrunner has Shackleshot--one of the best single-target stuns in the game. Shackleshot allows Windrunner to shackle a target either to a tree or to another enemy unit, potentially stunning two heroes. Her third skill, Windrun, allows her to escape dangerous situations, position herself for good Shackleshots, and catch up to fleeing enemies. If Powershot isn't enough to take down a target, she can use Focus Fire. This powerful ability makes her attack a single enemy at the fastest possible rate; while it reduces her total damage, it has a long duration. Focus Fire is also highly effective against buildings and other stationary targets--and woe to the enemy hero who is first hit by Shackleshot, since they are now essentially a stationary target themselves.


Hide description
iG.ddc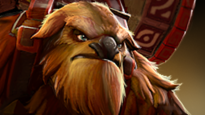 Earthshaker
Str

22 + 2.50

12 + 1.40

16 + 1.80

Hero description
Although the Earthshaker is a strength hero, his real power lies in his spells. With a well-placed Echo Slam, he can single-handedly level an entire team if his enemies are foolish enough to bunch together. His Fissure spell is very versatile. While it stuns and causes damage, it also creates an impassible wall of stone, trapping hapless foes between a rock and a hard place. Enchant Totem gives Earthshaker a significant damage boost for one attack, while his passive Aftershock ability causes a minor stun and damage effect every time he casts one of his spells. Although he is one of the more difficult heroes to use to his full capacity, he can be one of the most deadly in skilled hands.


Hide description
iG.SanSheng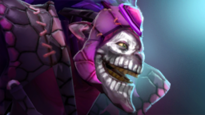 Dazzle
Int

16 + 1.85

21 + 1.70

27 + 3.40

Hero description
Dazzle is an unusual support spellcaster, who focuses entirely on physical damage rather than magical attacks. Hence, he is extremely effective backing up allies with strong physical attacks. Poison Touch doesn't deal much damage, but it is a very effective slow and stun with a ridiculously short cooldown. Escaping from Dazzle with a high level Poison Touch is nearly impossible. Shadow Wave doubles as a good heal and damage ability. Similar to Poison Touch, this ability may seem weak at first, but due to the extremely low cooldown it can be cast constantly, and with some clever placement can cause a lot of damage. Shallow Grave is an essential ability. When cast on a damaged ally, it can prolong life for several crucial seconds, allowing them to escape or cause even more damage before they go down. Often enemies will chase a hero who is under the effect of this spell, believing them to be an easy kill. This is can be a fatal mistake. Finally, the Weave spell gives Dazzle a method for boosting the power of his own spells and also giving his team a significant advantage in any battle. Due to the low cost and cooldown of Weave, he can cast it at practically every fight with great effect.


Hide description